FORESTRY AND NATURAL RESOURCES
New Approach to Reaching our Woodland Community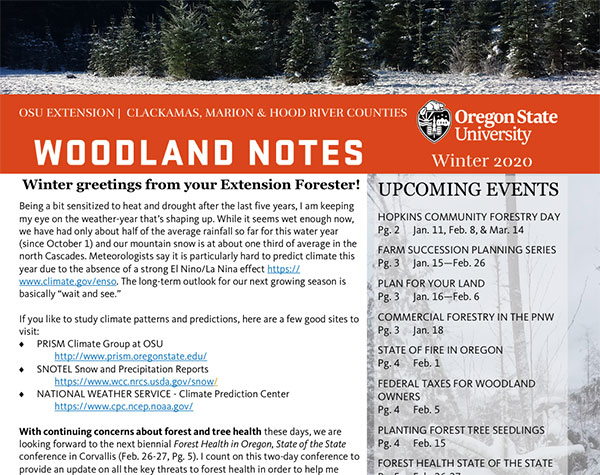 Woodland Notes Newsletter. OSU Extension, Clackamas, Marion, and Hood River Counties.
In 2018, Extension Forester, Glenn Ahrens, recognized that our communications toolkit needed an upgrade. Faced with increasing challenges to reach new audiences and renew engagement with existing audiences, we proposed a strategic upgrade of our communication and outreach methodology and received extra funding through our Clackamas Innovative Fund Program. To get started, we needed to 1) learn about new outreach and communication tools and 2) understand the values and needs of our target audience. 
Guided by community feedback, we designed a comprehensive audience profile and needs assessment. With that, we took our quarterly newsletter, Woodland Notes, digital and linked it with a new local Forestry and Natural Resources Facebook page for the Willamette Valley. We have also upgraded our printed newsletter, which is available by mail or pick up in our Oregon City office. Check out the Connect with Us section of this report to subscribe and stay connected.