FORESTRY AND NATURAL RESOURCES
A Busy Year of Construction at Hopkins Demonstration Forest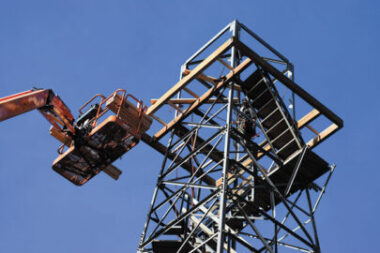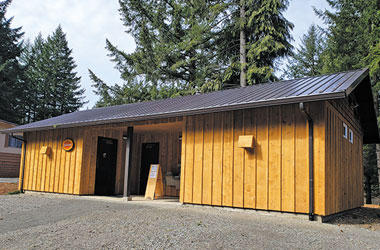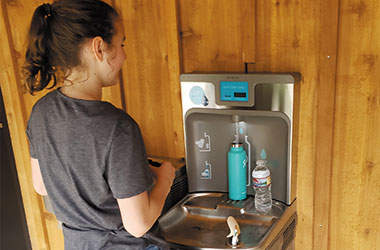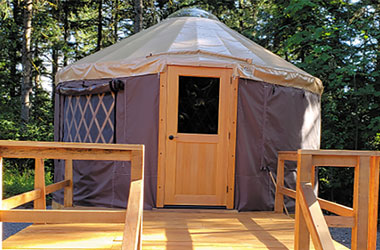 Each year Forest Forever Inc., (FFI) makes improvements to Hopkins Demonstration Forest and its facilities to further its mission of providing hands on education about sustainable forestry. 2019 was a very busy year at Hopkins thanks to the hard work of many dedicated community volunteers and the addition of an on-site lumber mill, made possible by donations.  Here are a few highlights.  
Fire Lookout Tower
Soaring 65 feet tall, the Clatskanie Mountain Fire Lookout Tower provides the best birds eye view of Hopkins. FFI acquired the retired steel tower on loan from the Oregon Department of Forestry (ODF) in 2008.  This past year, volunteers and fire tower restoration experts spent time readying it for public access, including reconstruction of the cabin on top that meets historic standards, a catwalk, grounding to protect against lightning strikes, and safety protection around the stairway. The tower was originally constructed in 1954 by an ODF employee and placed four miles southwest of Clatskanie.  As newer fire spotting technology evolved, it was retired and eventually dismantled.  The lookout tower will provide amazing views for visitors and fire education opportunities at Hopkins when it opens for public tours in summer 2020. 
Restroom Facility
Hot water and flushing toilets out in the woods is a big deal! A new restroom facility is proving to be a welcome addition to Hopkins. The 800 square foot complex includes a total of 8 stalls, 6 sinks, a shower and unisex family restroom combo, and a water bottle filling station. What makes this restroom even more special is the fact that volunteers completed about 80% of the work, and all of the exterior cedar siding and interior trim was milled at Hopkins on our own portable sawmill; a generous donation from a local woodland family. 
Water Station  
The new drinking fountain with bottle filling station gets lots of use by school groups and hikers 
Yurt  
What started as a kit on a pallet soon became a 16-foot yurt, thanks to a group of hard-working volunteers who came out for Community Forest Day in June.  Lumber milled from the Hopkins sawmill was used to build the platform and entry deck.  The yurt serves primarily as a classroom for the forest pre-school hosted at Hopkins.  Students love it because class time is like camping!  It is also available for small groups visiting Hopkins Demonstration Forest. 
Hopkins Demonstration Forest is a 140-acre privately-owned forest just eight miles south of Oregon City. The forest is open to the public daily for self-guided exploration, tours, workshops, and education programs. OSU Extension Service in Clackamas County helps deliver environmental educational and forestry programming to over 5,000 visitors a year. The second Saturday of every month volunteers are invited to work on projects that help, protect, preserve and improve Hopkins for generations to come.