FORESTRY AND NATURAL RESOURCES
Practical How-to Education and Inspiration at Tree School Clackamas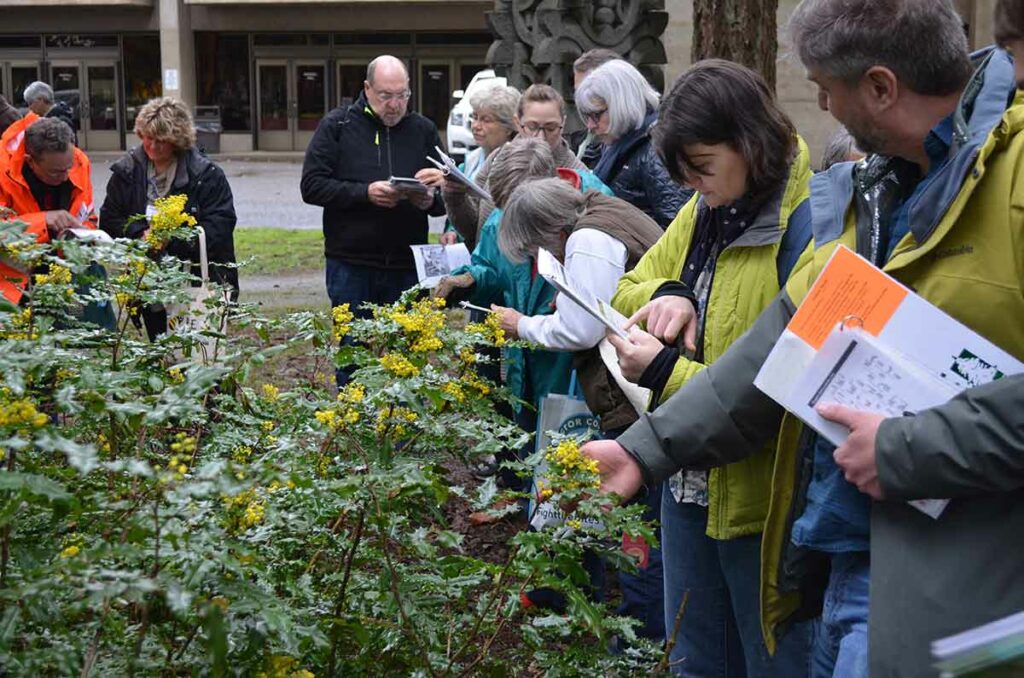 Participants learn what to look for and how to use field guides to identify plants in "Tree & Shrub ID."
Every March since 1991, OSU Extension brings together woodland owners, managers and stewards for a one-day education and networking event at Clackamas Community College called Tree School Clackamas. Tree School has grown from about 120 attendees in 1990, to our current maximum capacity of 650 participants (with demand even higher than that). From the seeds of our success, other regional Tree Schools have sprouted up around the state.
Tree School Clackamas 2018 was led by 80 instructors offering 77 classes for 650 participants. This undertaking was supported by more than 100 exhibitors, supporters, and volunteers. In addition to classes covering a wide range of practical knowledge and skills, Tree School provides a hub for community connections, extending far beyond the event itself. Participants, instructors, and exhibitors share resources, expertise and experiences – inspiring innovation and encouraging sustainable stewardship of private forest lands.
In a 2017 Tree School survey, most participants said they improved on-the-ground management, including increased productivity of timber and increased survival of planted trees.  They also reported an enhanced ability to operate equipment safely, control weeds, create wildlife habitat, and manage forest health.
Rose Clarke, new Forestry Education Program Assistant, jumped right onto Tree School 2019 planning when she was hired in September.  Rose has a reputation as an excellent communicator and coordinator – just what is needed on the Tree School team.