FORESTRY AND NATURAL RESOURCES
Reforestation after natural disasters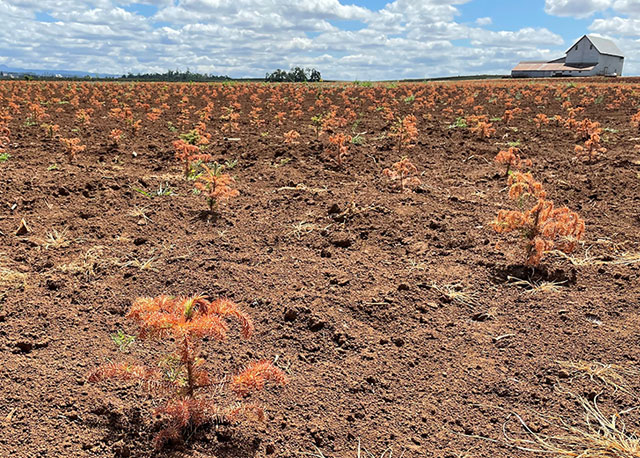 New plantings, such as these noble fir Christmas tree seedlings, were particularly vulnerable during the heat wave last year. OSU Extension is helping growers assess and recover from heat damage to trees.
This past year was one of the most challenging on record for trees and people due to all the damage from the 2020 fires, the February 2021 ice storm, and excessive heat. Acquiring tree seedlings and getting help with tree planting and other forest operations has been difficult for woodland owners, even before the recent disasters. The increase in demand due to the fire, ice, and heat damage has added to the problem. To address the situation, OSU Extension is working with Oregon Department of Forestry, Oregon Small Woodlands Association, Watershed Councils, and other local partners.
Over 300 landowners responded to our survey, reporting about 17,000 acres of severely burned forest and over 5 million seedlings needed. About 45,000 acres of family forest land experienced severe fire (killing most trees) in 2020, and seedling mortality due to excessive heat was widespread in 2021. Based on this, we know that even more people will be seeking help with reforestation in Oregon.
OSU Extension will continue to provide outreach, education, and coordination with partners to assist with reforestation and other forest recovery. This includes individual consultations in both Clackamas and Marion County, which continue at a high level via email, telephone, field visits, and our online Ask Extension webpage. Additional funding and support from government agencies and non-profit organizations will help with the increase in forestry and forest restoration needs.
If you need help with your trees, contact OSU Extension to connect with these increasing resources.
Ask Extension website: