FORESTRY AND NATURAL RESOURCES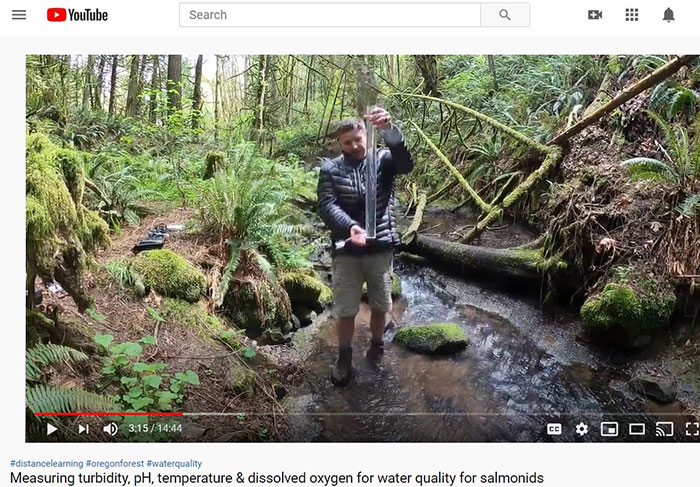 Peter Matzka demonstrating water quality sampling methods on YouTube.
With a GoPro camera strapped to his head, a smartphone in his left hand and a tablet in the right, Peter Matzka is out on the trail at the Hopkins Demonstration Forest in Clackamas County.
Matzka is the Oregon State University Extension Service, Forestry Educator at Hopkins Demonstration Forest. He manages educational programs at Hopkins. Typically, he leads thousands of Oregon schoolchildren and adults on science inquiry based field trips through the 140-acre forest.
"A special call-out to Robert Frost Elementary," Matzka says as the views be-gin building on his Facebook Live event in April. "They had scheduled field trips to bring all their fifth-grade classes out here. Unfortunately, because of the CO-VID-19 shut down, they were unable to make it, so I thought I'd bring the forest to them with a quick lesson about the different parts of a tree."
Matzka started by sharing short, grade-level appropriate, science lessons on Facebook Live. Those initial videos had been viewed more than 2,000 times in early spring. But because some districts don't allow Facebook on school-is-sued devices, Matzka began publishing the videos on YouTube or sending them directly to teachers. His topics have included different aspects of Oregon's forested ecosystems and their environmental, social, and economic benefits.
When distance learning resumed with a new school year, so did the outreach and efforts at Hopkins. "Given the learning curve for teachers and students for this new remote learning process, and disruptions due to the wild-fires, we started back up a little later in the school year," Matzka explained.
Find educational videos online: