FORESTRY AND NATURAL RESOURCES
Extension responds to wildfire disaster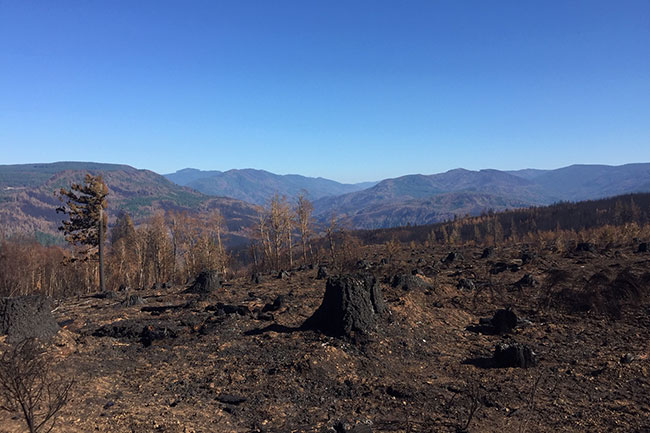 Area burned by the Beachie fire in the Molalla River drainage; part of over 60,000 acres and hundreds of forest and rural residential landowners affected across Clackamas County.
Extension Forestry programs have long emphasized wildfire awareness and how to reduce fire risk. In May 2020, we produced a series of webinars on Wildfire Awareness, Fire-Adapted Communities, and Protecting Homes, that were attended by 378 people, with over 600 views on our YouTube channel. In September, the Labor Day firestorm increased wildfire awareness in a terrible way, with over 188,000 acres burned in Clackamas County. This included about 60,000 acres and hundreds of owners of private forestland and rural residential land. At the same time, our new OSU Extension Fire Program was also moving forward in a big way, hiring six new staff, just in time to help local Extension staff respond to the wildfire disaster of 2020.
"After 35 years of working in western Oregon forests, I knew that big destructive fires can be expected here," said Glenn Ahrens, OSU Extension Forester. "But I wasn't ready for these fires and what it would be like when they burned, especially how they blew out onto our private forest and rural residential lands."
Extension worked with Oregon Department of Forestry and other partners to meet the huge need for post-fire assistance both online and in the field including, assessment of dam-aged trees and planning for salvage harvest and reforestation. Many people affected by the fires attended Extension's After the Fire webinar series, starting with a Wildfire Listening Session, with 583 people, and followed by education sessions to address the many questions. Weekly post-fire sessions included After the Fire – Now What? (attended by 711 people), Hazard Trees and Erosion (at-tended by 559), Assessing Tree Mortality and Salvage Logging, (attended by 719), Reforestation and Restoration (attended by 324) and Tax Considerations After Wildfire (attended by 501). The OSU Extension Fire Program is your gateway to resources on all aspects of preparing for fire and recovering from fire, including videos of programs you may have missed.
One hope after these big fires, is that the experience will stimulate more participation in the Extension Fire Program and other community education and planning in order to do more to strategically manage the landscape and prepare communities for living with fire – with less damage.
Opportunities to connect: