FAMILY AND COMMUNITY HEALTH
Food pantries welcome fresh blueberry donation during COVID pandemic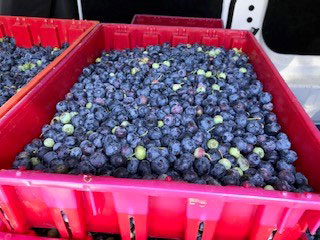 Over 120 flats of mechanically harvested blueberries from the North Willamette Research and Extension Center were delivered to area food banks in July.
OSU Extension's North Willamette Research and Extension Center (NWREC) in Aurora, found itself with 1,800 pounds of mechanically harvested blueberries ready for distribution last July. Normally the berries are harvested and purchased by Master Gardener volunteers, with funds going to help support research at the Center. This was not possible due to the COVID-19 pandemic, so staff from NWREC and the Family and Community program in Clackamas County came up with a new plan.
The berries were loaded into a cargo van and delivered to local food pantries, including the Tualatin School House Pantry, Tigard High School Food Pantry, Clackamas County Gleaners, and the Clackamas Service Center. Collectively, these organizations distribute emergency food assistance to more than 10,000 families in Clackamas and Washington counties. Pantry coordinators reported that the berries "flew off the shelves," and many grateful recipients commented that it was the first time during the season that they were able to take berries home to share with their families. Mission Accomplished!