FAMILY AND COMMUNITY HEALTH
DUFB Puts SNAP Dollars to Work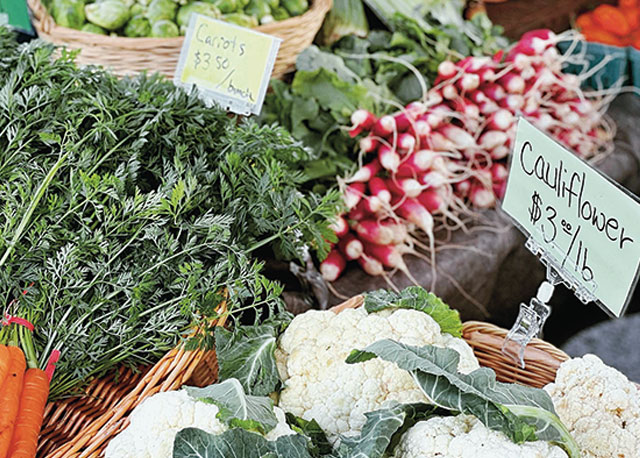 Farmers Market – OCFM Statistics
Total# New SNAP Customers  97
Total # SNAP Transactions   965
Total $ SNAP Redemptions   $22,852
Total $ Amt DUFB Distributed   $17,730
Total $ Amt DUFB Redemptions  $18,296
Note: The $18,296 generated in fruit and vegetables sales at the market stayed in the pockets of small farmers, contributing to the local economy. 
The Oregon Double Up Food Bucks (DUFB) program helps low-income families eat more fruits and vegetables while supporting Oregon farmers and growing local economies. In 2022, when shoppers spent their SNAP benefits at a farmers market, they were doubled, up to $20 per day, to spend on locally grown fruits and vegetables.
The Clackamas County FCH Program partnered with the Oregon City Farmers Market during the summer to deliver activities that provided shoppers with a positive experience and to help them maximize their SNAP (Supplemental Nutrition Assistance Program) and DUFB benefits. Shoppers were greeted at the Information Booth and provided Welcome packets, Market Currency Sheets, and token pouches. Nutrition education activities, such as market tours, helped increase the knowledge, skill, and confidence levels of shoppers to enable them to make purchases that best fit their family's nutritional needs.
Educational displays were staffed by Educational Program Assistants who provided samples of Food Hero recipes and incentive items. On two occasions the FCH Program partnered with the WIC program to distribute the Farm Direct Nutrition Program (FDNP) Fruit and Vegetable coupons to participants.
The monetary impact of DUFB at the Oregon City Farmers Market for the months of May — October 2022 is shown to the left.
The Milwaukie, Sunnyside and Mount Hood Farmers Markets also accepted SNAP and DUFB during the summer months. For more information on Oregon DUFB: doubleuporegon.org