Community engagement activities at NWREC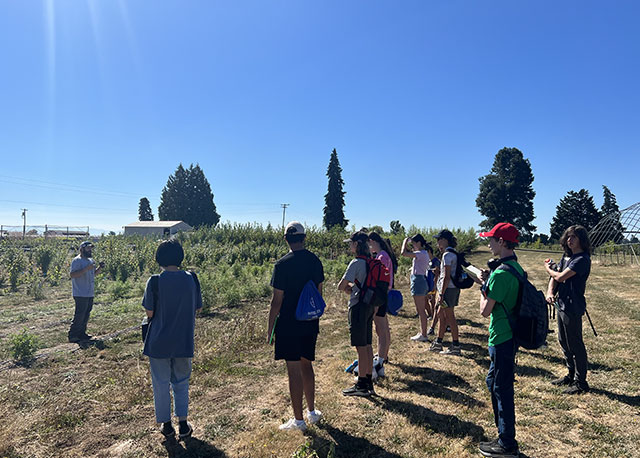 NWREC had the opportunity to engage with the local communities through multiple activities in 2022. In early June, nearly 250 3rd-grade students from the Canby School District participated in a field day. Several faculty and staff spoke to the students about soil, water, fertilizers, and pesticides in growing plants, the role of insects in the ecosystem, integrated pest management, pollinators, food safety, agricultural equipment, integrating solar power generation and farming, and 4-H program and its various activities during the half-day visit. Students, parents, and teachers found the event fun, engaging, and a useful learning experience. Similarly, 15 journalists from around the nation visited NWREC through OSU's Food and Agriculture Media Fellowship and 14 9th-grade students from the West Linn-Wilsonville School District toured NWREC on different occasions to learn about various research and extension activities and its positive contributions to local agriculture and the economy.
Forty young adults from the local communities received hands-on training on the safe operation of tractor and its basic maintenance in late June. Trainees find this popular course very useful in acquiring critical skills necessary for the future of farming in the region.
NWREC hosted its annual Harvest Dinner in late September. OSU leaders, faculty, staff, donors, supporters, stakeholders, elected officials, and community members were among the 185 attendees who celebrated the success of NWREC programs. OSU President Jayathi Murthy, Dean of College of Agricultural Sciences Staci Simonich, and Director of Extension Ivory W. Lyles addressed the attendees highlighting the importance of research and extension at NWREC and appreciating the support of stakeholders and donors.
NWREC also provided tours to various small or large groups from the Oregon Dairy and Nutrition Council and others. Visitors typically feel that touring NWREC helps them understand various aspects of food and fiber production.