Virtual County Fair is an opportunity to learn real skills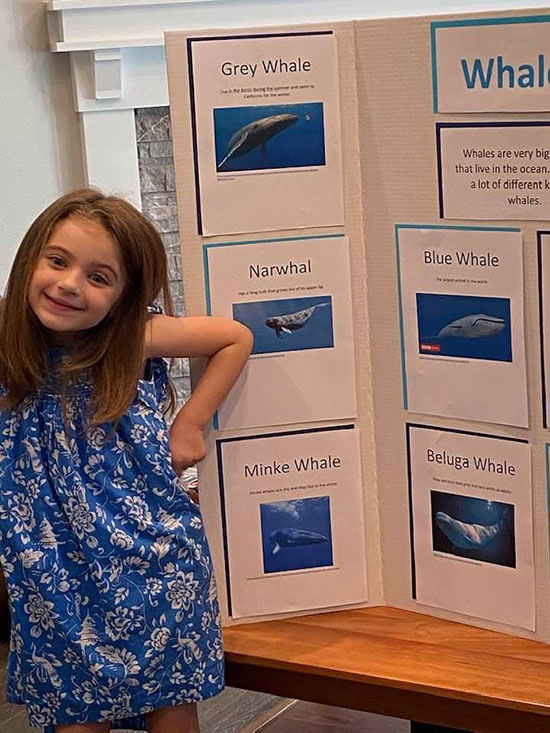 Audrey Markowski gave a presentation live on Zoom about whales.
The 2020 Clackamas County 4-H fair took place quietly in August. There were no crowds of spectators, no Ferris Wheels or rodeos, but to the youth who participated in 4-H fair events, it was a treasured piece of "normal" life.
"This is a tough time for young people," says Wendy Hein, 4-H Faculty with the Oregon State University Extension Service. "They feel lonely and lost without their usual activities. We were able to create a positive activity that challenged them and kept them engaged with their 4-H friends."
During the year-round 4-H club program, youth pick one or more areas to study. They practice new skills, make items, or care for animals to learn more about their "project area." Being in quarantine did not stop youth from learning or creating. More than 500 youth participated. The challenge was finding a way for youth to share what they had done in a safe but meaningful way.
"I am so impressed by our volunteers and youth leaders," said Hein. "In a very short time they created a new kind of fair. The 4-H Youth Development Program teaches young people the skills they'll need as adults. Life is neither predictable nor fair. Our volunteers set a positive example for our youth by showing them that even when times are hard, you can still make positive choices."
The youth, adult volunteers, and county staff worked together to invent the Virtual Fair activities. Some projects areas submitted photos or videos. Others showed their skills in a Zoom video meeting. Each method taught members new skills and was an opportunity for families to work together.