COMMUNITY AND URBAN HORTICULTURE
The Community and Urban Horticulture program in Clackamas County serves thousands of citizens each year with an unwavering commitment to provide OSU research-based best practices for sustainably managing home and community gardens. Sustainable practices minimize risks to human health and support a healthy ecosystem for all in our community to thrive in and grow.
Since 1976, OSU Extension's Master Gardener program has been serving the community dispensing scientifically grounded gardening information to home gardeners.  The metro-area Master Gardener program annually trains over 150 community members – who on completion of training join over 650 Master Gardeners educating the public in successful and sustainable gardening practices.
In Clackamas County, you can easily access tried-and-true gardening knowledge from OSU Master Gardeners volunteering at local farmers markets, schools, libraries, parks, and community events.
Weekdays you can reach Master Gardeners in person at our Clackamas Extension office, by phone through our hotline or by email.
Have a gardening question? Want to learn more about OSU Master Gardener training classes? Contact us for tried-and-true gardening tips, plus updates on how Master Gardeners are serving in our community.
MASTER GARDNER HIGHLIGHTS FROM 2018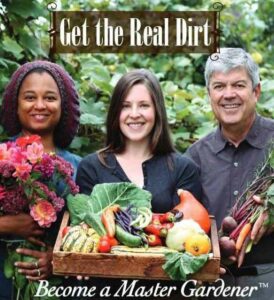 OSU Master Gardener volunteers answered over 1,900 questions from the gardening public at the office hotline in Oregon City.
Clackamas County Master Gardener Hotline: 503-655-8631 Monday through Friday from 9:00 am – 12:00 pm and 1:00 pm to 4:00 pm
Metro Master Gardeners donated over 11,550 pounds of produce to area Food banks, with over 5,000 pounds coming from Master Gardener's living in Clackamas County.
Metro Master Gardeners had 677 active and certified Master Gardener volunteers, including 183 Clackamas County residents.