COMMUNITY AND URBAN HORTICULTURE
Gardeners Rejoice! Spring Garden Fair Returns!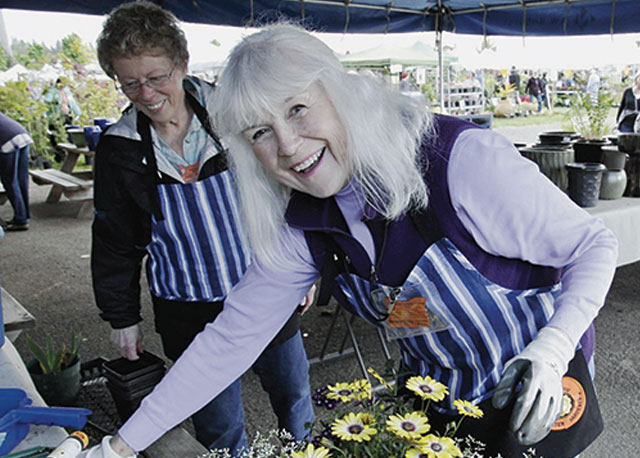 Master Gardeners volunteering at the Spring Garden Fair's Potting Station.  (Marcia McIntyre, OSU Extension Service Master Gardener Program Representative)
2023 Spring Garden Fair: Saturday, May 6, and Sunday, May 7
2022 marked the return of the Spring Garden Fair to the delight of gardeners around the state.
This spring, gardeners were rejoicing as word spread of the return of the iconic Clackamas County Master Gardener Association's annual Spring Garden Fair. After a two-year hiatus, the 37th annual fair greeted over 8,000 enthusiastic gardeners, eager to shop at the array of plant and garden-focused vendor booths. In addition, shoppers sought out their favorite fair features: soil pH testing, the Potting Station, New Plant Introductions, the Raffle, and the ever-popular booth to ask Master Gardener volunteers for gardening advice.
Plans are already underway for the 2023 Spring Garden Fair. Be sure to mark your calendar, so as not to miss the 38th year of the fair, Saturday, May 6, and Sunday, May 7, at the Clackamas County Event Center in Canby. Find links to reach the Master Gardener Helpline via webform, email, or voice mail metromastergardeners.org