COMMUNITY AND URBAN HORTICULTURE
Grow an Extra Row project fills critical need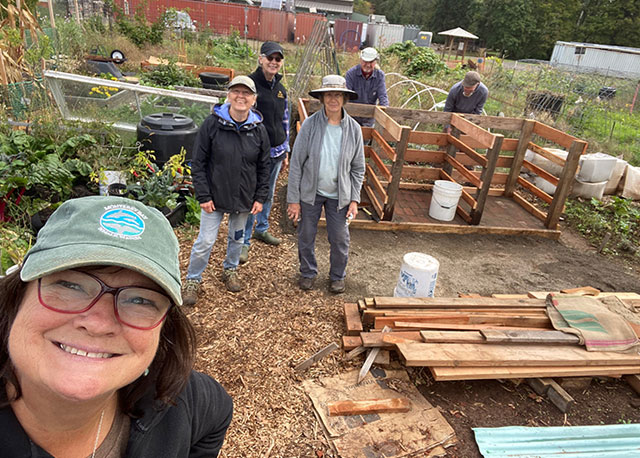 Compost bins under construction at GAER garden, with OSU Master Gardeners (from left to right) Priscilla Robinson, Eve Freeman, Kathy Krentz, Nancy Muir, Will Hughes, and Kirk Pearson.
In 2021, nothing seemed to dissuade the Master Gardener volunteers at the Grow an Extra Row (GAER) Giving and Learning Garden. Even with a later than usual start to the season, a smaller volunteer force, the presence of squash bugs, flea beetles and gophers, plus an historic heat wave, the GAER garden had an extraordinary harvest season.
The Grow an Extra Row project has been tended and supported by Clackamas County Master Gardener since 2004. Located at the Clackamas Community College Community Garden plots, the GAER garden supplies nutritious vegetables to area food banks and serves as a hands-on learning environment for practicing sustainable gardening techniques.
Knowing the critical need for fresh produce in the midst of a pandemic, 24 dedicated Master Gardeners served nearly 1,000 hours sowing, planting, tending, and harvesting a bounty of nutritious produce, for those experiencing food insecurity.
Using green houses, cold frames, or simply a kitchen table, volunteers grew over 790 vegetable starts, from basil to winter squash, for the garden. Those plant starts produced 2,722 pounds of fresh veggies that were donated to food pantries in the Clackamas community. In addition, Master Gardeners personally donated 2,594 pounds of produce to boost the GAER food pantry deliveries.
With the Master Gardener's sights set on future gardening seasons, 2021 wound down with the completion of a new compost bin system and the addition of an herb garden.
Master Gardener GAER volunteer coordinator Nancy Muir, reflected, "It was a very different year for GAER, but also a very good one, with terrific volunteers, who all have a love for gardening and helping others."