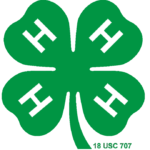 4-H is a global network of youth organizations whose mission is engaging youth to reach their fullest potential while advancing the field of youth development. The 4-H name represents four personal development areas of focus for the organization: head, heart, hands, and health.
4-H empowers young people ages 5-19, through hands-on learning experiences in a safe and welcoming environment to help them grow and thrive. Camps, clubs and STEM educational programs led by supportive adult mentors build confidence and leadership skills.
Need more reasons to join 4-H? Research shows 4-Hers do better in school both academically and personally. They feel more connected and give back to their communities.
Find our most popular events, upcoming deadlines, and helpful information for 4-H families online and through our newsletters. Be sure to tag us in your social media stories!
VOLUNTEERING BY THE NUMBERS