FORESTRY AND NATURAL RESOURCES
Managing for Healthy Forests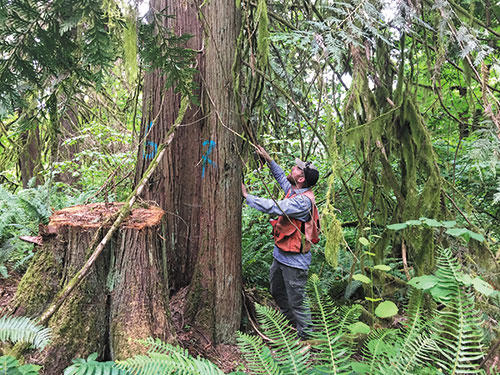 OSU Plant Pathologist, Jared Leboldus, is called in to examine dying western redcedar.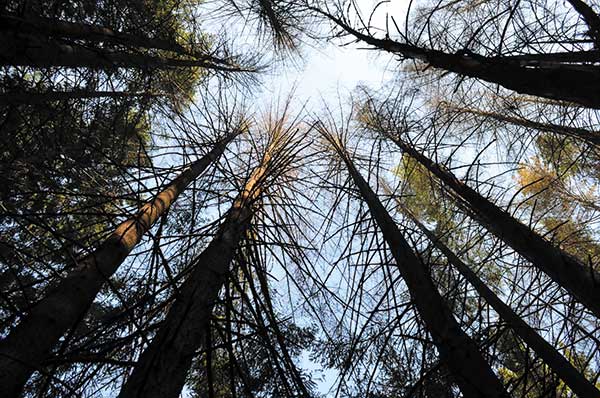 Douglas-fir bark beetles can build up in fallen trees and spread to standing trees.
With the mission of sustaining forests and forestry enterprises in Oregon, OSU Extension Forestry and Natural Resources education focuses on forest landowners and land managers as major audiences. Education events throughout the year are developed to address their priority needs determined from surveys and other input. We offered over 100 events and classes throughout 2019 for over 2000 people. Forest health, forest management, and wildfire preparedness continue to be the top priorities. 
Under the theme Managing to Keep Forests Healthy, woodland owners learned to assess major threats and manage their forests to minimize risks in multiple classes at Tree School and other programs. In a series of Forest Wellness Checkup field visits, Extension Forester Glenn Ahrens provided individual consultations, which also helped him take the pulse of current forest health problems. Ongoing tree health issues related to drought, heat, insects, and disease indicate the need for continuing programs on forest and tree health. 
Extension education programs utilize experts from OSU, natural resource professionals, and woodland owners sharing their knowledge and experience. "We rely on research-based information combined with practical experience. We want people to learn both the knowledge and skills they need to take care of their forest," said Glenn Ahrens, OSU Extension Forester in Clackamas, Marion, and Hood River Counties.