FORESTRY AND NATURAL RESOURCES
Helping people and forests recover from disaster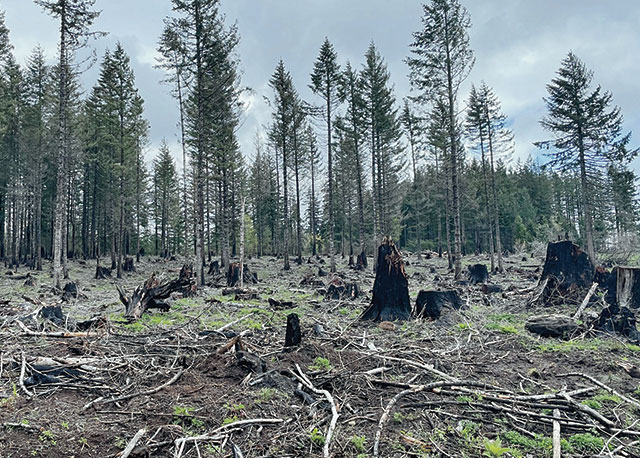 Post-fire reforestation site planted in 2022.(Glenn Ahrens)
Story by: Glenn Ahrens, Extension Forester

More than 500 private landowners in Clackamas County experienced wildfire on their land during the 2020 Labor Day fires. Additionally, many more suffered damage to their trees from the ice storm and heat dome events in 2021. Getting help with seedlings, tree planting, and other forest operations has been difficult due to the increase in demand and limited supply. Providing assistance to people affected by these disasters continues to top the list of priorities for OSU Extension.
Forestry and Natural Resources Extension (FNR) staff are working with Oregon Department of Forestry, Clackamas Soil and Water Conservation District, Watershed Councils, and other partners to help forest landowners with disaster recovery, including site assessments, seedling acquisition, and tree planting.

In 2022, Extension provided advice and facilitated the distribution of 109,000 tree seedlings from the Oregon Department of Forestry (ODF) to about 85 landowners. Requests for assistance for 2023 indicate needs for about 300,000 more tree seedlings for 70 landowners. Extension is connecting people in need to the ODF Seedling Assistance Program for fire-affected landowners which provides seedlings to meet this demand. OSU Extension FNR will continue to provide outreach, education, and coordination with partners to assist with the many challenges in forest recovery. Development of additional funding and support from government agencies and non-profit organizations is ongoing to help with forestry and forest restoration. If you need help with your trees, contact OSU Extension to connect with these resources.