FORESTRY AND NATURAL RESOURCES
Collaborative effort brings interpretive panels to
the Hopkins Demonstration Forest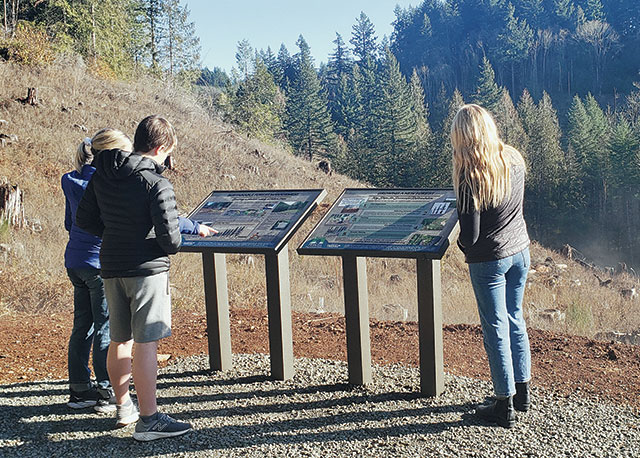 Students observing interpretive panel on reforestation at Hopkins Demonstration Forest. (Peter Matzka)
Story by: Peter Matzka, Forest Educator

Over the summer and fall of 2022, eight interpretative panels were installed at four new locations around the Hopkins Demonstration Forest, located in Beaver Creek. These panels complement the existing woodland management education kiosks, all installed in a collaborative effort between OSU Extension and Forests Forever, Inc. The first location to receive interpretive panels was the Molalla Log House, whose four panels present the background and restoration process of the historic structure with links to the local forest.
Next, the Mt. Clatskanie Lookout Tower received one panel that discusses its history and early wildfire detection efforts in Oregon, as well as another panel for Everett Hall that illustrates defensible space and ways to reduce a home's risk of wildfire. Lastly, two panels were placed next to a recent, 7-acre clear-cut that illustrates reforestation and young stand management.
OSU Extension and Forests Forever, Inc. board members with expertise in each topic provided oversight on the project. Over 20,000 public visitors view these educational locations. OSU Extension welcomes everyone to come on out, take a hike and learn about woodland management in Oregon at the Hopkins Demonstration Forest