FORESTRY AND NATURAL RESOURCES
Summer Enrichment Program kicks off
return to in-person learning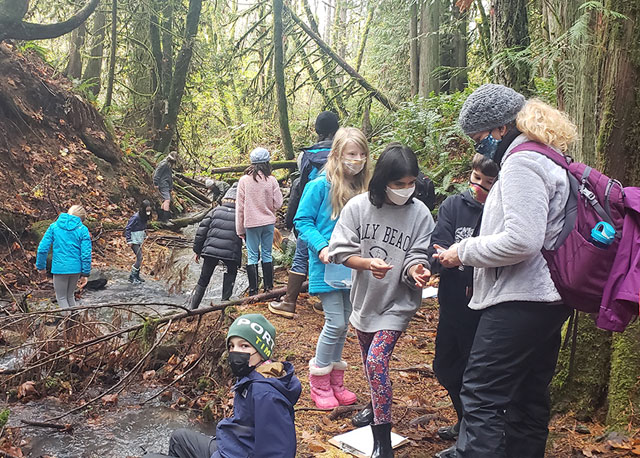 Arbor School of Arts and Sciences students test water quality during a forest hike at Hopkins Demonstration Forest, which returned to in-person learning last summer.
Hopkins Demonstration Forest is a huge outdoor learning classroom for thousands of K-12 students each year, but when the COVID pandemic hit, Hopkins went virtual with their education efforts in April of 2020.
OSU Forestry Educator, Peter Matzka, produced 25 videos on a variety of topics that are covered on a typical forest visit. Educators and the public can access those videos via YouTube. Currently, they have received over 4,300 views by online classrooms and individuals with 245 hours of view time plus 45,500 impressions to the general public (many of the actual views cannot be documented as these were viewed by larger groups and also downloaded to a variety of online learning platforms).
"While this was a successful effort, it was exciting to finally make the transition back to in-person learning out in the woods in the early summer of 2021," said Matzka. As Clackamas County schools wrapped up a 'hybrid' school year of remote and in-classroom learning, opportunities to get back to in-person outdoor learning presented themselves and OSU Extension was happy to step up in partnership with Hopkins to assist.
This COVID learning adaptation, like much of the last almost two years, was something new to Hopkins — which tends to focus more on teacher education in the summer months while students are on summer break. "However, the return to in-person education increased interest and the need to provide opportunities to our youth who spent much of the last year inside, away from friends, and hands-on learning," said Matzka. As a result, Hopkins became the host to over 1,000 youth and adults from Canby, Molalla, Mulino, Oregon City, and West Linn schools for an outdoor, school enrichment experience that provided exploratory opportunities on the 140-acre forest, studying natural resources, reconnecting with classmates, and learning experientially.
Find educational videos online: