FORESTRY AND NATURAL RESOURCES
New Schink Demonstration Forest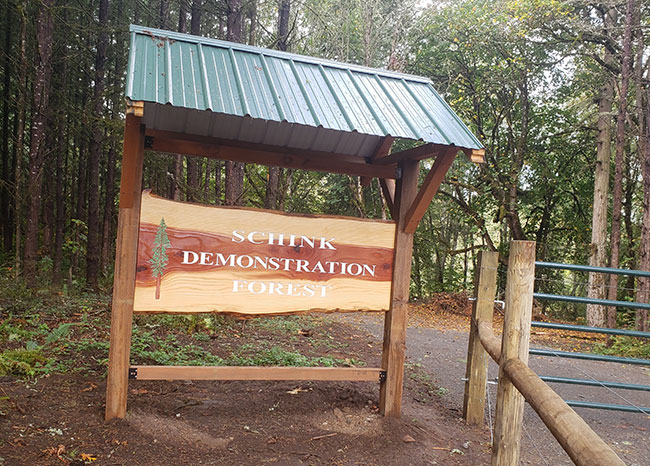 Sign welcoming visitors to the new Schink Demonstration Forest.
Located on the Molalla River, about a mile south of Feyrer Park, a new 21-acre, outdoor educational facility is ready for school groups and public organizations when COVID-19 restrictions are lifted.
In 2018, Hannah Schink and family donated the site to the non-profit, Forest Forever Inc., which owns and operates the Hopkins Demonstration Forest. It took a little time making plans for this incredible new site and educational opportunity. In 2020, with additional monetary funding from the Schink Family, an access road was improved and parking space was added to allow for buses. Adjacent to the parking area, a 900-squarefoot, open-sided shelter and vault toilet were also constructed.
Schink Forest offers a different set of educational opportunities than Hopkins, according to Peter Matzka, Extension Forestry Educator at Hopkins. "The 600 feet of Molalla River frontage, side channels, tributaries, and riparian upland forest make it a unique place to study a variety of aquatic and riparian ecosystems as well as the terrestrial forest areas. In addition, visitors will learn about the history of the Dickey Prairie area and the indigenous people and pioneers that frequented this location."
Unlike Hopkins, Schink Forest will not be open to the general public, allowing for a more private and focused science-based inquiry experience for the invited groups that visit. If you are interested in learning more about the opportunities at Schink Demonstration Forest contact the OSU Extension Service in Clackamas County.
Opportunities to connect: