FORESTRY AND NATURAL RESOURCES
Community education adapts to COVID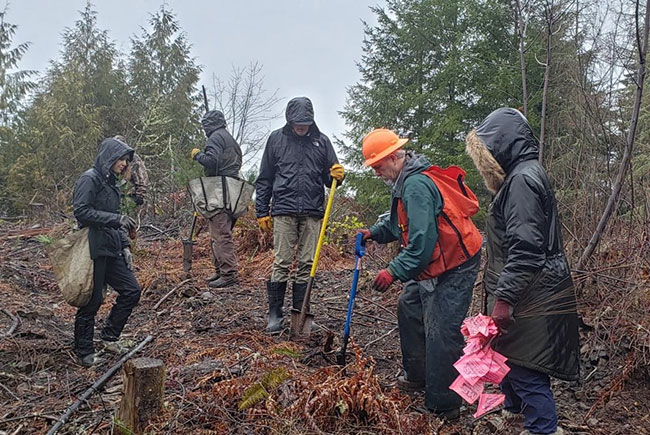 When it is safe, Extension will offer more field workshops like this one on planting trees held in February 2020.
Our Extension Forestry and Natural Resources education program has been changed dramatically by COVID-19. Instead of in-person classes and workshops held indoors or in the field, we are now delivering education options online. These include, online webinars, meetings, videos, publications, and web-based learning modules. Our wild-fire outreach in 2020 included a series of three webinars before the Oregon wildfires broke out and six webinars after the fires, aimed at helping landowners and residents assess the damage and begin to recover. Tree School Online webinars for woodland owners began in April 2020 and are continuing every 1st and 3rd Tuesday through June 2021. For the latest offerings, please check our websites.
People do miss the experience of in-person workshops and classes, according to Glenn Ahrens, OSU Extension Forester. "But we have found that we are reaching more people in each event since we are not limited by classroom space and travel time for participants." Tree School Online and Wildfire programs had more than double the number of person-hours of engagement online in 2020 compared to in-person events in 2019. "At the same time, we are continuing printed material and more personal communication via individual consultation as an alternative to the online environment," Ahrens added. 
Since the onset of COVID-19, individual consultations have increased greatly via email, telephone, and our online Ask-an-expert system. We are also able to do field visits with individuals and small groups. The overall volume of consultations with clients and partners on trees and forestry nearly doubled in 2020, to about 50 per week. The most common questions are about forest and tree health, how to manage the forest, wildfire preparedness and post-fire recovery. All the important seasonal tasks required to manage a woodland enterprise must go on in spite of COVID (and what
better way to get away than being in the forest).
For the latest offerings, please check our website.
Opportunities to connect: