FAMILY AND COMMUNITY HEALTH
FCH supports monthly produce box distribution efforts
A Providence grant awarded in 2020 funded three separate projects in Clackamas County, including a collaborative partnership between Tudos Juntos, Wild Roots Farm, and Lomita Farm to provide monthly produce boxes to 60 low income, Hispanic and non-Hispanic families living in Estacada, Sandy, Canby, and Molalla. Tudos Juntos recruited the families and coordinated the delivery of the boxes from the Estacada Food Bank. The FCH program contributed printed materials, including Food Hero recipes printed in both English and Spanish, information on nutrition and food resource management, and future programming opportunities for placement in the boxes. Families living in Washington and Multnomah counties also participated in the program. The program delivered 1,500 produce boxes throughout the tri-county area over 25 dates, starting in June of 2021 and concluding five months later in November.
Shawna Johnson, with Tudos Juntos, reports that the program has been a success. It has provided healthier options and introduced "new" foods to families with limited incomes and lacking transportation means to grocery stores. Monthly deliveries of the produce boxes directly to homes allows Tudos Juntos staff to determine if there are additional social services needs.
As of October 1st, 2021, 73 Spanish speaking families and 80 separate English speaking families (all unduplicated) had been served by the program. A formal evaluation to measure the impact of the program is planned.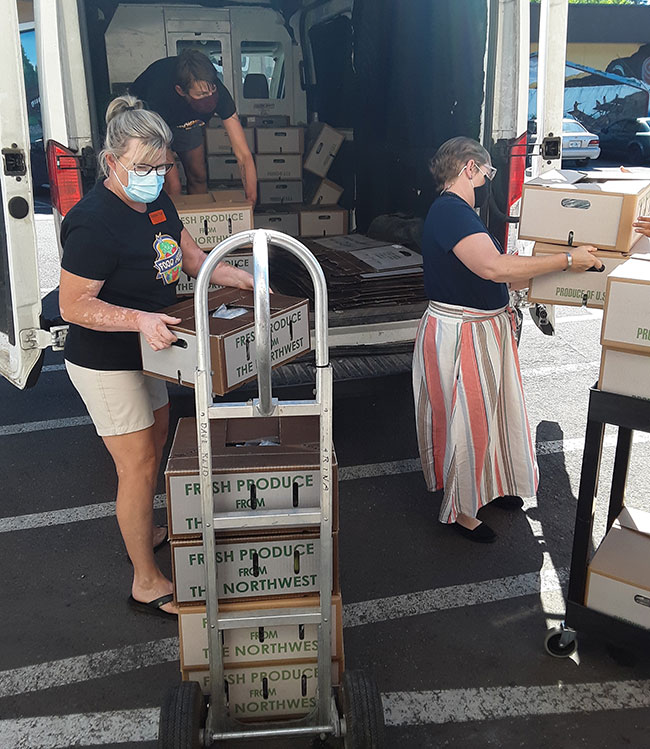 The OSU Extension Family and Community Health program supported monthly food box distribution efforts for 60 low-income families in Estacada, Sandy, Canby, and Molalla.