FAMILY AND COMMUNITY HEALTH
Partnering with Micronesian and Pacific Islander communities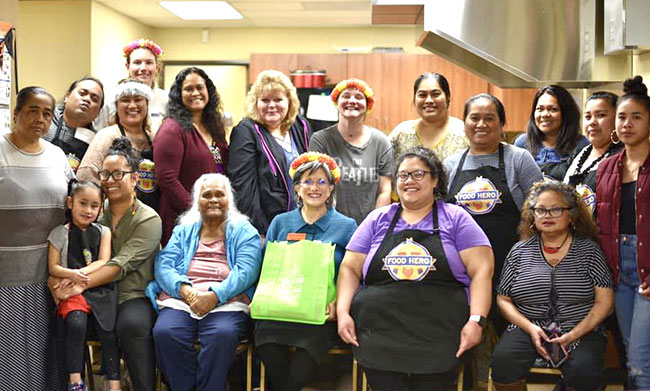 Pacific Islander and Micronesian Cooking Matters class participants after a cooking class dedicated to culturally based healthy recipes.
Historically the Micronesian and Pacific Islander community has faced inequitable health outcomes, exacerbated by a lack of access to health care services and social safety nets due to their special residency status in the United States.
Community Health Worker, Lahaina Phillip, had begun to explore promotion of culturally-based healthy recipes when she heard about SNAP-Ed cooking classes. Last January, Elena Illescas, SNAP-Ed Nutrition Educator, taught a six class series of Cooking Matters for the Islander community. Participation was excellent, due to the promotional efforts of Lahaina, as well as class volunteers, Madie Phillip and Myra Horn. The Oregon Food Bank donated grocery gift cards and paid for purchases of culturally specific ingredients. Two of the recipes prepared during class will be added to the Food Hero recipe website in the future.
The Food Hero campaign is now initiating a number of cultural workgroups across the state. Members of the Micronesian and Pacific Islander community have accepted the invitation to participate and promote their traditional ingredients and recipes that appeal to families looking for healthy, culturally-relevant options as part of the Pasifika Workgroup.