FAMILY AND COMMUNITY HEALTH
Participants in the Walk with Ease program at the Milwaukie Center begin their session with some light stretching. Walls, walkers, and chairs make excellent stretching aids before the class heads out the door for a group walk around North Clackamas Park. "I won't walk alone," said program participant Robert Wiesner. "But I need to work out. Walking with people helped me commit."
Walk with Ease is a free 18-session program developed by the Arthritis Foundation for arthritis prevention and relief. The Milwaukie Center has partnered with the OSU Extension Service, Family and Community Health (FCH) program in Clackamas County to deliver the program for the past 6 years. Participants also enjoy sampling Foodhero.org recipes as part of a nutrition component delivered by FCH.
The Walk with Ease program was developed for adults with arthritis but it is appropriate for anyone who wants to be more physically active and can stand on their feet for at least 10 minutes without increased pain.
Find a Walk with Ease class near you or sign up for a self-guided program: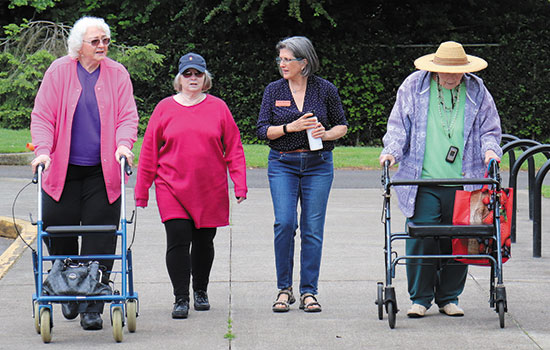 (Left to right) Sara Dover, Mary Manning, Elena Illescas and Joan Carnegie finish the last leg of their stroll around North Clackamas Park as part of the Walk with Ease Program.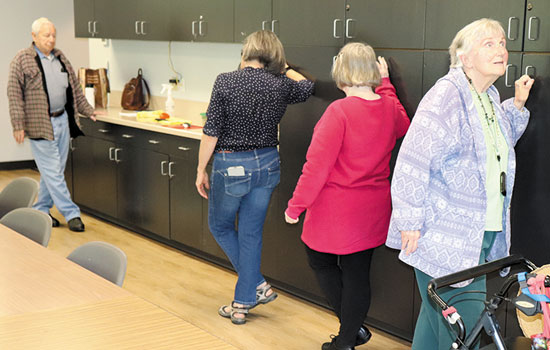 Walls, walkers and countertops make great stretching aids during the group stretch before walking.