FAMILY AND COMMUNITY HEALTH
SNAP-Ed Fosters Healthy Food Choices through Nutrition and Cooking Classes
OSU Extension Family and Community Health educators served up SNAP-Ed cooking and nutrition classes for nearly 800 low income youth and families at 10 sites across Clackamas County in 2019. Sites included Molalla Elementary School, Trost Elementary School, River Mill Elementary, Clackamas River Elementary, Sandy Grade School, Lot Whitcomb Elementary, Estacada Middle School, the Oregon City Public Library, and the Providence Milwaukie Community Teaching Kitchen. Programming, offered in English and Spanish depending on the needs of the audience, was delivered during school, after school, over the summer, and in the evening for adults.
SNAP-Ed (Supplemental Nutrition Assistance Program Education) is federally-funded education through the USDA's Farm Bill.  It includes classes focused on identifying healthy food choices, improving cooking skills, and increasing physical activity using a variety of curricula, including Serving Up MyPlate, Discover MyPlate, Kids in the Kitchen, Nutrition in a Box, Cooking Matters®, and Cooking Matters® for Families. Cooking Matters® is a national program developed by Share Our Strength, and is taught in Oregon in partnership with the Oregon Food Bank.
The SNAP-Ed program also delivers nutrition and food resource management education via the Food Hero website, and staff support community efforts to adopt policy, systems, and environmental changes that positively impact on health. Sites receiving SNAP-Ed programs are screened for eligibility using criteria such as free and reduced-price school meal percentage (i.e., eligible schools are those with 50% or more students who qualify for free and reduced meals), or proximity to a qualifying school.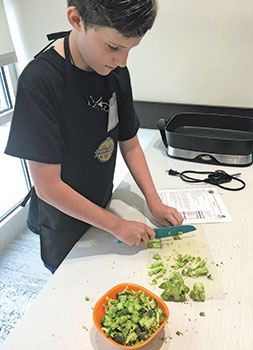 Students at Estacada Middle School learn cooking skills in Kids in the Kitchen (photo left). Kids in the Kitchen debuted at the Oregon City Library in 2019 with garden vegetable cakes.
To learn more about bringing SNAP-Ed to an eligible site: