FAMILY AND COMMUNITY HEALTH
Partnering to Address Hunger Challenges in Estacada Schools
"Partnering with OSU Extension Family & Community Health is like quadrupling our staff with the best and the brightest!" — Debra Bufton, Estacada Area Food Bank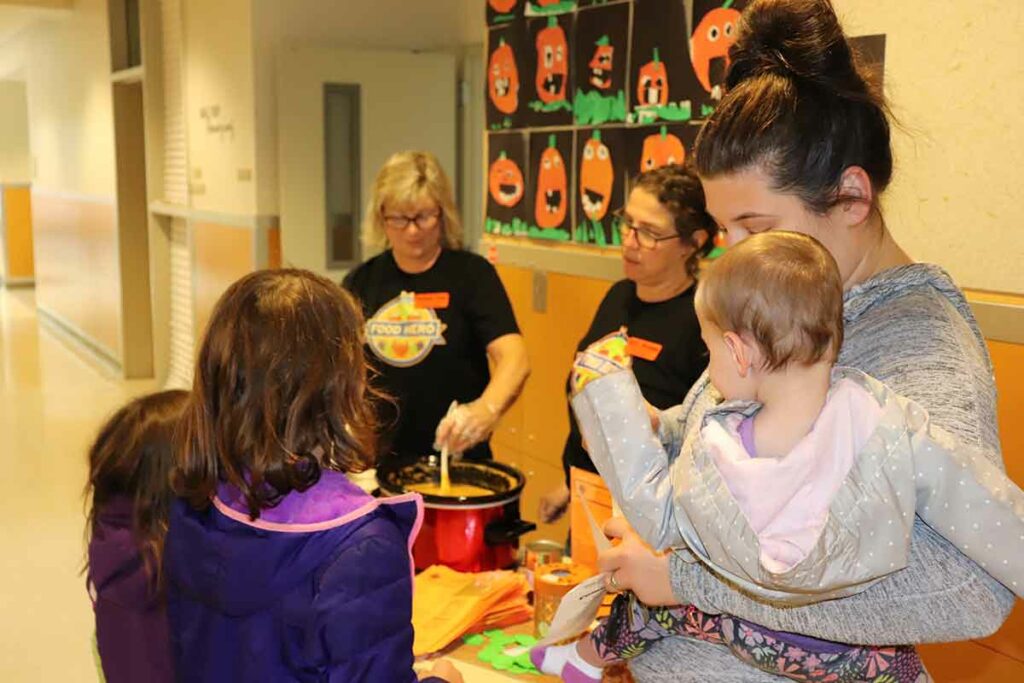 Family and Community Health Program Assistants Stephanie Stuart (back left) and Buffy Rhoades (back right) share Curried Pumpkin Soup samples with Estacada School Food Pantry visitors.
With bags and pull carts in tow, families arrive every Wednesday at the new Estacada Food Pantry inside Clackamas River Elementary School. They browse the neatly organized shelves full of food staples and refrigerators filled with meat, dairy products and produce donated by local gardeners.  A clothing rack is jammed with coats and other donated clothing items.  Nearby shelves hold school supplies.
The school food pantry is open to all families with children attending any Estacada School District school, from 1:00 – 4:00 pm on Wednesdays all year round.  There are no income requirements.
Family and Community Health (FCH) members help organize food placement in the pantry and offer food tasting demonstrations to expose guests to pantry offerings that they may not be familiar with.   "Often times there is an abundance of certain foods that guests pass on, because they don't know how to prepare it," said Stephanie Stuart, Education Program Assistant.   After tasting the Pumpkin Curry soup demo, many guests added cans of pumpkin to their bags, along with a copy of the FoodHero.org recipe and a curry sample provided by FCH.  Food Hero is an OSU Extension program designed to inspire parents with easy to make, low cost recipes that are tasty, healthy and kid-friendly.