COMMUNITY AND URBAN HORTICULTURE
OSU Master Gardeners™ – Trained Community Educators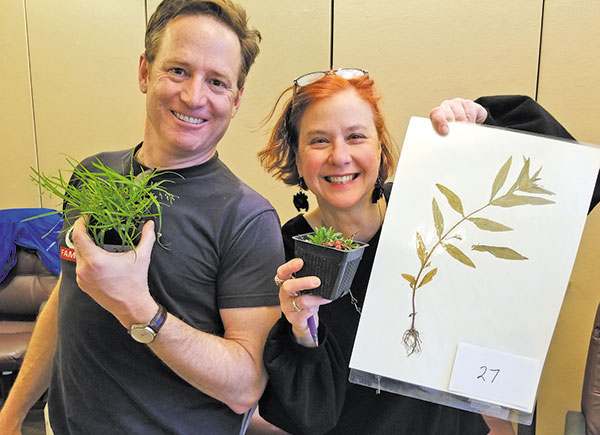 Master Gardener trainees use lots of helpful techniques to learn how to identify weeds.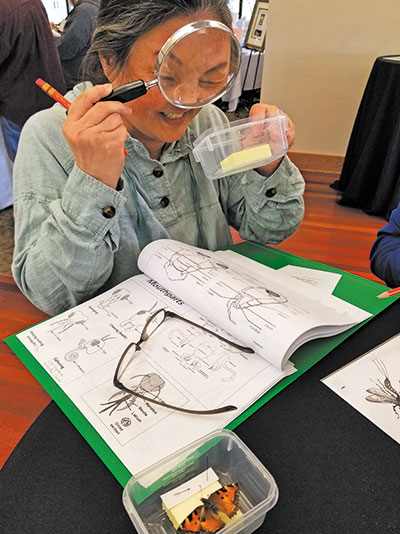 Master Gardener studying an insect during a Master Gardener hands-on workshop.
In the winter months, when gardening can be far from thought, OSU Extension Service begins training a new group of Master Gardener volunteers. Master Gardener training in the tri-county metro-area starts in late January, concluding in March— just in time for the start of the spring gardening season.
In Clackamas County, over 50 volunteers are trained annually in Oregon City.
Master Gardeners complete an intensive horticulture-training program in the art and science of growing and caring for plants. Study includes botany, soils, landscape plant care, plant problem diagnostics, Integrated Pest Management, fruit, berries, and vegetables. Instruction takes place via online modules, classes and hands-on workshops. Training emphasizes proven, successful garden practices and thoughtful environmental stewardship.
At its core, the OSU Master Gardener program is dedicated to training effective, volunteer community educators. To successfully complete the program and become a certified Master Gardener, trainees continue their education by going into their communities to volunteer (50 hours) at OSU Extension Program approved events, projects and activities. You can find Master Gardeners educating the public at schools, parks, farmers markets, demonstration gardens and community events.
Registration for the 2021 Master Gardener training will open in the Fall of 2020:
(2020)