COMMUNITY AND URBAN HORTICULTURE
Gardening Provides Therapeutic Benefits for Veterans
The Master Gardener program is excited to be collaborating with a budding new program through the U.S. Department of Veterans Affairs, VA Portland Health Care System. In 2019, a cohort of 14 veterans participated in Master Gardener training. The trainees are part of the Veterans Affairs Farming and Recovery Mental Health Services (VA FARMS) program (formerly known as Boots2Roots PDX). The VA FARMS program is focused on vocational and therapeutic horticulture training for military veterans.
In addition to receiving Certificates of Home Horticulture, VA FARMS participants took part in Master Gardener volunteer activities tabling at several VA events, working side-by-side with fellow trainees and Master Gardeners. The VA FARMS participants also took part in OSU Small Farms classes as part of their program to train new farmers.
We are excited to welcome seven additional VA FARMS participants for our 2020 Master Gardener training.
(2020)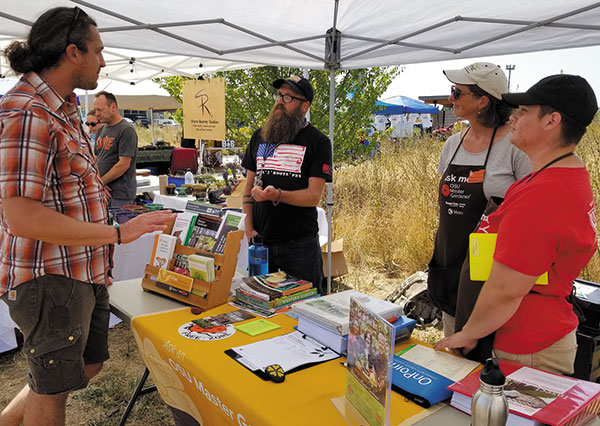 VA Farms participants/Master Gardener trainees table at a Farmers Market, alongside fellow Master Gardeners.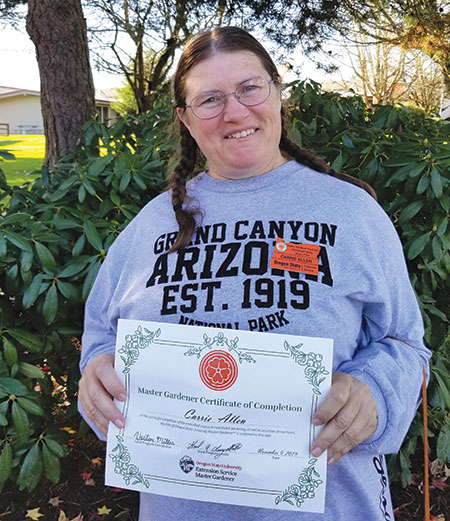 Carrie Allen, VA FARMS participant and newly minted OSU Extension Master Gardener volunteer – proudly wears her OSU MG badge and shows her certificate.