COMMUNITY AND URBAN HORTICULTURE
On the Leading Edge of Pest Management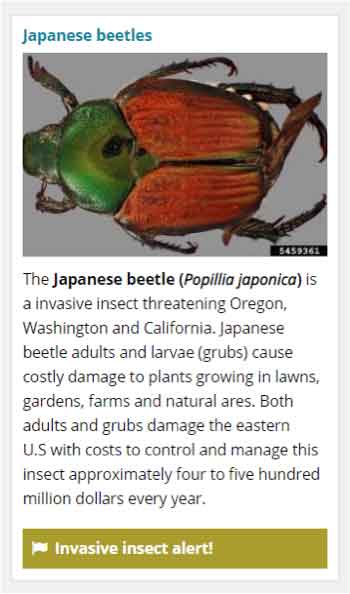 Example of a Solve Pest Problems website navigation feature that brings up information on the Japanese beetle page.
Solve Pest Problems is a new online resource currently under development that will provide high-quality pest management and pesticide information for Oregon and beyond.
OSU faculty has teamed up with numerous community partners from across the state, to develop this educational service geared toward the general public, landscape professionals, public land managers, and Master Gardener volunteers.
In 2018, the Solve Pest Problems organizers launched a formal advisory council to guide the development of this community-based educational service. "We want to get it right, to ensure that this important information service is clearly and effectively written and understandable for both English and Spanish speaking audiences," said Weston Miller, Metro Extension Community and Urban Horticulturist Faculty, located at the Clackamas County Extension office.
With a proof of concept in hand and building momentum, government agencies are being asked to provide cash contributions to underwrite budget items appropriate to their mission. Tax-deductible donations are being solicited from businesses, community groups, and individuals. Grants are being pursued from private and corporate foundations.
(2019)