COMMUNITY AND URBAN HORTICULTURE
Master Gardeners Grow an Extra Row and Give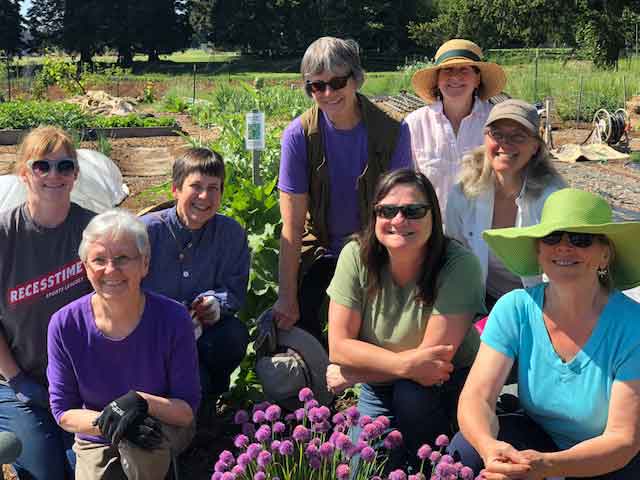 OSU Master Gardener volunteers gather at the Grow an Extra Row Learning and Giving Garden at Clackamas Community College to learn new skills and grow food for those in need in the community.
A whopping 3,869 pounds of fresh, nutritious produce was harvested and donated to agencies serving Clackamas County residents experiencing food insecurity, thanks to the efforts of OSU Master Gardeners at the Grow an Extra Row Giving and Learning Garden in 2018. The bounty was grown on just 5,000 square feet of ground located on the Clackamas Community College (CCC) garden plots.
The garden is a project of the OSU Extension Service Master Gardener program and is supported and funded by the Clackamas County Master Gardeners. The project began in 2004 when the late Gray Thompson (OSU Extension Agent and co-founder of the Master Gardener Program at OSU) decided he just couldn't bear the thought of so many of his neighbors in Clackamas experiencing hunger. Gray secured a garden plot at the CCC Community Gardens, enlisted the generosity and sweat equity of a few of his fellow Master Gardeners and the seeds were sown for what is now known as the Grow an Extra Row Giving and Learning Garden.
The goals of the project are to grow food for those in need and to educate Master Gardeners and visitors from the community. Hands-on gardening is a great tool for teaching things like how to check soil temperature, extend the growing season or control cucumber beetles. These lessons and more take place at the Grow an Extra Row plots for Master Gardeners and visitors alike. Anyone is welcome to join in for hands-on experience to expand their own garden knowledge and to lend a hand with this valuable community project. Volunteer days are Tuesday and Friday, 9 am – 12 pm.
(2019)