Meet Jenifer Cruickshank with OSU Dairy Extension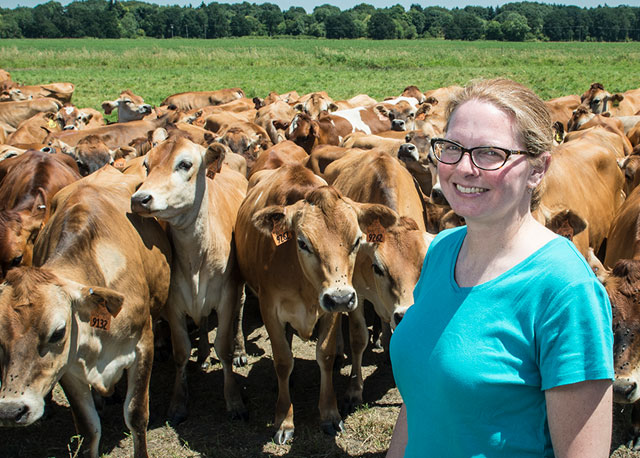 Jenifer has a PhD in Dairy Science and is a native of Oregon, where she grew up on a dairy and field crops farm.
Jenifer Cruickshank joined Oregon State University Extension Service in June 2016. Her primary focus is Dairy Management, with particular interests in genetics and genomics, calf health, heat stress, animal handling practices, pest bird management, and regulatory compliance. She works specifically with producers of all sizes in the Willamette Valley, as well as statewide, to improve their operations.
With the increasing frequency of wildfires, farmers are interested in the effects of smoke on livestock. To investigate the impact of the poor air quality in September 2020, data on milk production, body temperature, and cow health are undergoing analysis to quantify the effects. To dig even deeper, a subset of cows at the OSU Dairy will be monitored over the next fire season. "We will measure stress markers in the blood to see how the cows respond to smoke at a physiological level," explains Cruickshank. "With a more detailed understanding of how their bodies respond, we can develop interventions to reduce harm."
Other dairy projects include a study underway at the OSU Dairy where there is a terrible pest bird problem. The high numbers of pigeons and starlings (both nonnative, invasive species) eat a significant amount of grain intended for the cows, in addition to the mess they make, which can have negative health implications, especially for young calves. 
For research, several programmable lasers have been installed along with cameras taking still photos. The lasers don't harm the birds, just scare them, with the idea that they make the barn an unpleasant space to spend time. The photo data are being analyzed to determine the long-term effectiveness of the lasers for pest bird deterrence.
Cruickshank is also involved in a study collecting and analyzing samples of the hemp biomass that is left after CBD extraction. Hemp is not yet legal to feed to livestock, so in order to collect data to inform the process of legalization, the study is measuring the THC and CBD levels of the post-extraction hemp material. "We are interested in post-extraction hemp as a feedstuff because the nutritional profile is quite impressive, and we'd like to know more about variations in the nutritive quality so we'll be measuring that, too, in samples from around the state," said Cruickshank.
Like most regions around the U.S., the number of dairies continues to decline. Clackamas County is now home to fewer than 10 dairy farms, but they are very diverse. Several are larger-scale farms that supply milk to Darigold and Organic Valley. Others are small in scale and are bottling milk or making cheese on the farm. Whether in the form of chocolate milk pints from the corner store or half-gallons from the farm or in small blocks of artisan cheese (cow and goat!), all of the milk from these farms is available locally!