Harvest Dinner Returns to NWREC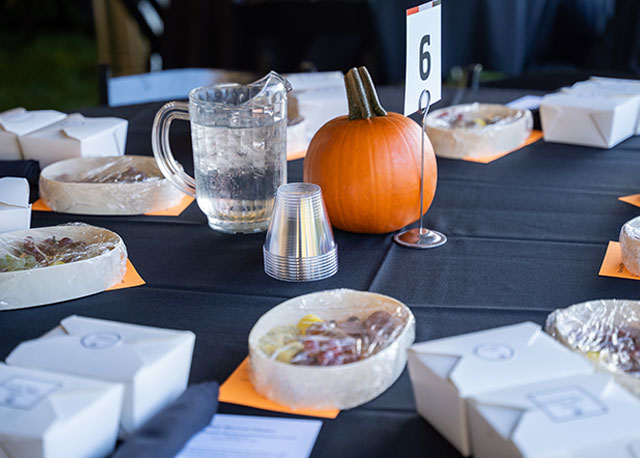 The Harvest Dinner is a premiere regional event, celebrating one of Oregon's key industries – agriculture. It returned to NWREC last October with some modifications to dining and seating due to COVID.
Everyone was anxious to connect in person once again at the 10th annual Harvest dinner, held at NWREC in early October last year. The previous Harvest Dinner had to be held virtually due to COVID.
"The 2021 Harvest Dinner was different," said NWREC Director, Mike Bondi. "We limited attendance to 50% of our normal number, required face coverings, had fewer people at each table, and served all food in to-go boxes to minimize handling and ensure safety." Approximately 130 OSU faculty, staff and administrators, community stakeholders, research and education partners, and elected officials attended the 2021 Harvest Dinner.
"The goal was to re-connect people, recognize retiring staff, and share plans to re-open the facility to the public in early 2022. Also, we were very excited to share news of important developments and activities at the Center over the past year and a half—despite the pandemic and its many impacts," said Bondi.
News shared with the community at the Harvest Dinner included: $500,000 private gift to remodel the Main Office Building and create a wireless network for the entire farm to enable field data collection and to remotely control irrigation that will use environmental monitoring to minimize water usage. Establishment of an endowment to support summer student work experiences for high school and college students working in the berry program.
College infrastructure funding to build three new state-of-the-art laboratories for plant, soil and molecular research; a new drying facility for plant tissue research; and the renovation of the Main Office building's HVAC system to be in compliance with OSHA COVID safety protocols.