Harvest Dinner has a different look in 2020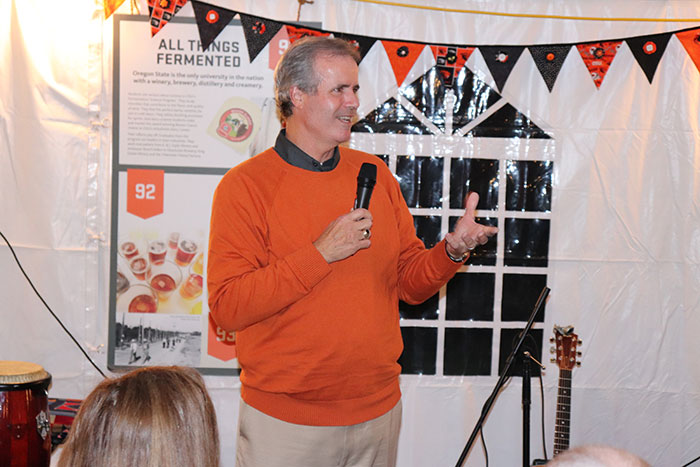 Alan Sams, Dean of OSU College of Agricultural Sciences, shared thoughts about Oregon agriculture at the 2019 Harvest dinner. He spoke virtually at the 2020 Harvest Dinner.
The NWREC Harvest Dinner has become a premier regional event, celebrating one of Oregon's key industries – agriculture. In 2019, The 8th annual NWREC Harvest Dinner brought together 300 local farmers, agricultural industry and business leaders, university faculty, and elected officials—including Governor Kate Brown.
This year's NWREC Harvest Dinner was not possible due to COVID-19 but organizers knew they had to find a way to share their valuable work so they hosted a Virtual Dinner in 2020.
"The agricultural community has a lot to be proud of," said Mike Bondi, NWREC Director. "It's been a tough year in so many ways for so many. But our farmers and agricultural producers continued to find ways to provide the food and fiber to keep us all fed, support the local economy and keep people employed— so we decided to find a way to celebrate their work during these a difficult and challenging circumstances."
The Virtual Harvest Dinner took place in October over Zoom. Participants brought their own dinner and favorite beverage to enjoy, virtually. Speakers included the College of Agricultural Sciences Dean, Alan Sams, and new OSU President, F. King Alexander. A video featured highlights from NWREC's research and education outreach accomplishments and activities during the past year.
Another special highlight this year was featuring the story of Farmers Ending Hunger, a non-profit organization based in Salem that has been working for the past 15 years to mobilize farmers and the public to help deliver Oregon's agricultural products to local food banks.
Learn more: