'What's Growing On' at the NWREC Learning Farm?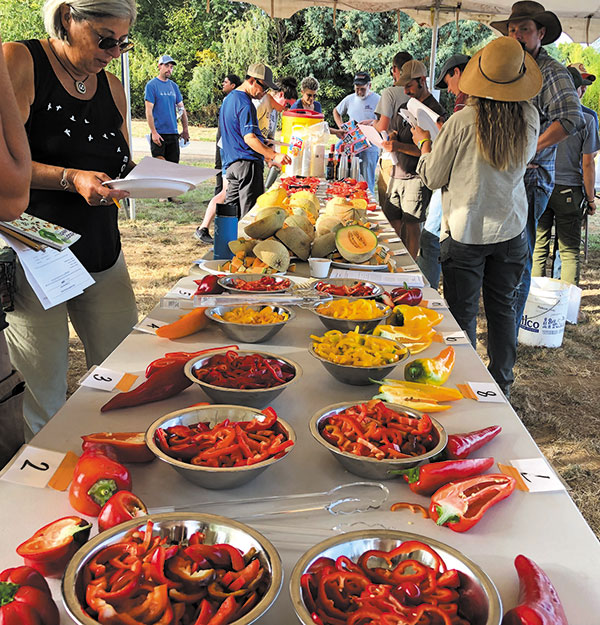 Participants tasted and evaluated different vegetable varieties during the summer Vegetable Trials.
Fields were full with vegetable and cover crop trials this past winter, spring, summer, and fall at the 2-acre NWREC Learning Farm. During the Vegetables Trials we had 15 crops with 175 varieties of over-wintering vegetables and summer fruits and vegetables. The cover crop trials included winter and summer trials of 17 types and 39 varieties. 
Vegetables trials occur to identify new varieties of vegetables that perform well in organically managed systems in the Willamette Valley. Flavor, nutrition, disease resistance, productivity, and marketability were evaluated from the summer trials of peppers, melons, and tomatoes. Purple-sprouting broccoli, cabbage, cauliflower, Brussels sprouts and radicchio were evaluated for winter hardiness. Storage crops of winter squash and celeriac were also planted. 
Farmers, plant breeders, seed companies, chefs, and produce buyers attend the field days to learn about new varieties, network, and participate in tastings. 2019 included a winter vegetable field day, a winter cover crop field day, and a combined summer vegetable and summer cover crop field day. Trials for the winter vegetable project will continue in 2020. 
College students Harrison Gingerich, a Canby High School graduate, and Reuben Garnett, an OSU student helped keep the learning farm growing in 2019.
Each year NWREC employs about 20-30 high school and college students to assist with research and general farm operations. Contact Shelly Hughes for application information: