Cultivating Knowledge on Cultivating Weeds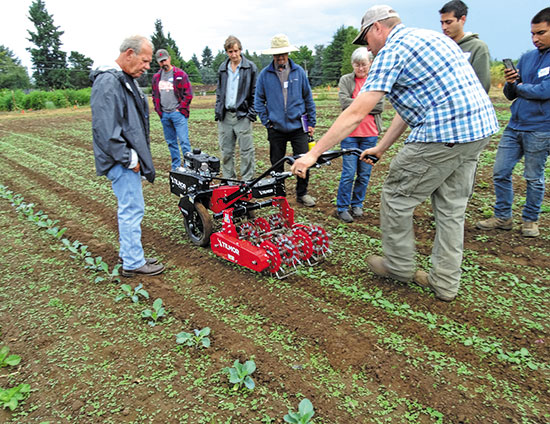 In field demonstrations of the walk-behind cultivating tractor at the OSU Mechanical Cultivation Field Day.
Over 100 people attended the second annual OSU Mechanical Cultivation Field Day last August at NWREC. The goal of the event was to increase the holistic weed management knowledge base of vegetable farmers, and provide a platform for farmer and equipment suppliers to exchange ideas and opportunities. Valuable feedback gained from the 2018 field day evaluations added new elements to the 2019 field day including, a focus on walk-behind cultivation equipment, non-mechanical methods of weed control, and an experienced farmer discussion panel.
Participant comments reflected that the event was a positive experience and farmers enjoyed the hands-on aspect of the day. One farmer commented, "What was most useful was seeing the tools demonstrated, and having an opportunity to operate them."
The field days were made possible through a two-year mini-grant from the USDA Western Sustainable Agriculture Research and Education program (WSARE) to conduct educational outreach on mechanical cultivation.