OSU EXTENSION SERVICE | CLACKAMAS COUNTY
Greetings from Angela Sandino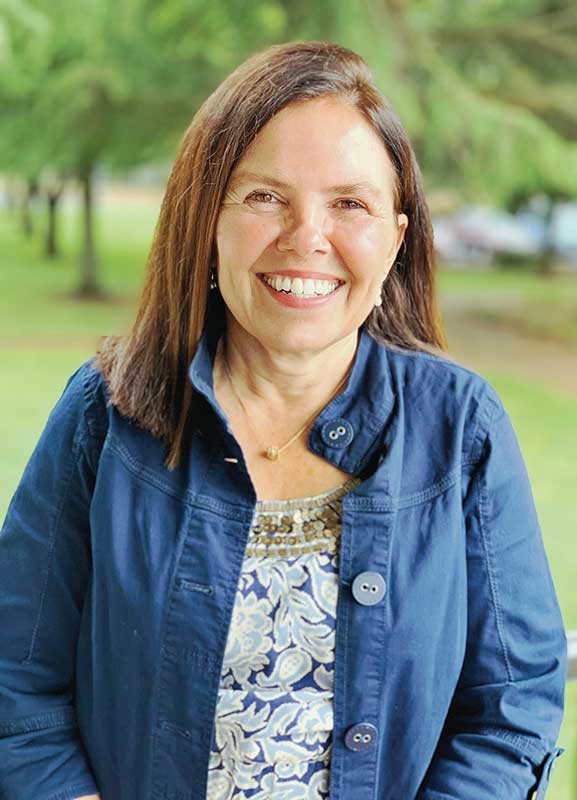 As I write my first introduction to the Clackamas County Extension Annual Community Report, I reflect on my first year serving as the Regional Director of this wonderful organization. The Oregon State University Extension Service is a place where local folks network, engage and learn from researchers and experts in areas that interest and enhance our community. I could not imagine another organization that provides this level of engagement and expertise to the community in so many interesting and diverse topics from how to plant a pollinator garden, to how to operate a chain saw, to how to safely preserve chili peppers, to how to groom a llama. I have no doubt 2020 is poised to be another great year for Clackamas County Extension and the members of our thriving community. Above all, we cannot thank you enough for your support.
Our Extension community is held together and supported by an amazing network of community volunteers who spend countless hours sharing their time and talents to help Clackamas Extension thrive. Our Regional Extension Community Advisory Network (RECAN), is an excellent example of volunteerism in action. RECAN members spend several hours each month receiving faculty reports, reviewing our proposed annual budget, and listening to our architect describe updated plans for our new building. These dedicated community members share their advice and recommendations; participating in lively discussions about how Extension can best serve the residents of our community.
Finally, I cannot adequately thank Mike Bondi for the decades he has served as the Director of Clackamas County Extension. Under Mike's dedicated leadership, Clackamas County Extension was able to pass a tax service district in 2008 which has provided a generous funding source for the county that brings educational programs to all our residents. Mike's wise fiscal responsibility as budget authority provided the foresight to save a portion of each year's budget to build an education resource center for all Clackamas County residents to enjoy, breaking ground in 2020. Also, thanks to Mike's vision Hopkins Demonstration Forest came to exist and what was once a beautiful Oregon woodland area is now a sophisticated educational resource for the entire region and state. But, above all, Mike has formed deep and lasting relationships with countless members of the Clackamas County community because he is honest, humble, hardworking and kind. Mike cares about this community and he cares about Oregon. I can never replace Mike, that is a fact, but as his retirement approaches, I promise to do my best to work as hard as Mike has all these years and to ensure OSU Extension continues serve the Clackamas County community moving forward.
Truly I am thankful and delighted meeting the diverse residents of Clackamas County and collaborating with such talented people in OSU Extension. I look forward to all the wonderful things 2020 will bring us all.
Above all, thank you again for your support.
Angela Sandino, North Willamette Extension Regional Director
VOLUNTEERING BY THE NUMBERS 2019
A special thanks to Kimberly Jacobsen for her contributions gathering, writing and editing the stories in this report. Angela Fox, Cheryl DuVal and Pamplin Media Group for their assistance with design, printing, and circulation of this publication. And our OSU Extension staff for their hard work sharing these valuable programs in our community throughout the year.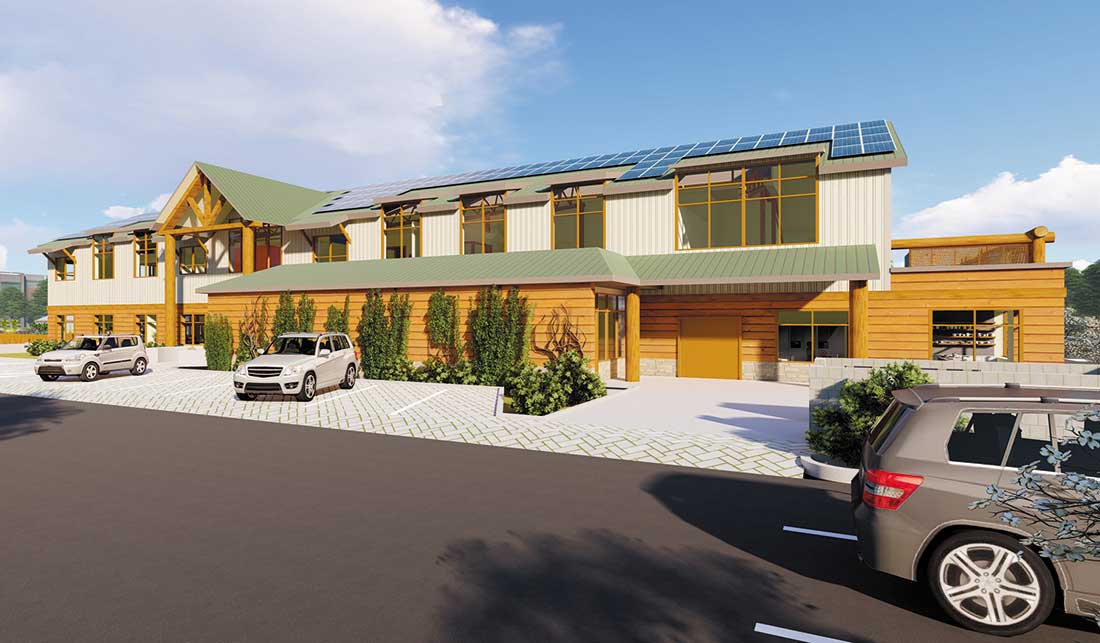 The main entry from the Extension Education Center's parking lot on the east side of the building will feature a log façade with wood provided by Ilene and Monte Waldorf, Molalla.  Ilene's father, Clyde Ramsay, was Clackamas County's first Tree Farmer of the Year in 1955 and leader of the family woodland owner movement in the state.  He worked with other landowners at the time to form the Clackamas County Farm Forestry Association.  The logs for the façade will come from the Ramsay family tree farm property—a legacy to the Ramsays and the Association that still thrives today and includes faithful stewards of the family forest heritage in the county.
New Extension Education Center Nears Groundbreaking
Interestingly, this was the same title for a lead article in last year's Clackamas Extension Community Report. But, the groundbreaking in the Spring of 2019 never happened. Delays in the land use approval process (a projected four-month process that actually took 15 months), plus other delays in getting the construction details just right, all resulted in this project being a full year behind schedule.
The good news is—all of the land use approvals are complete, building permits have been filed, construction documents are finished and we are finalizing financing through the County for the construction loans. Public bidding runs February 13, through the last week in March. We hope to select our contractor in April—and, depending on mobilization time, break ground sometime in May. The new Clackamas Extension Education Center will be located at the southeast corner of Warner Milne and Beavercreek Roads in Oregon City. This all-wood public
building will feature advanced wood technologies (cross laminated timber and mass plywood), a Cascadian design utilizing log façade and trellis elements, plus be the first net-zero public building in the county—meaning the building will generate all of its own power.
The Center will emulate the values of Extension's education programs in the county that have been a part of our legacy here for the past 100 years…self-sufficiency, care for the land and producing farm and forest products for the benefit of our communities, learning by doing, and sharing the legacy of our work to the next generations.
A public ceremony will mark the groundbreaking this Spring. Watch for details and come join the celebration. A 12-month build-out is anticipated prior to occupancy and a grand opening in 2021.
A Special Thank You to Those Investing in our Future!
A $3 million private fundraising campaign is underway to retire debt for the Extension Education Center project. Naming rights are available as an opportunity for individuals, businesses and organizations to be associated with the project or to honor someone associated with the legacy of Extension in the county and our programs. Today we recognize the following early contributors to the Clackamas Extension Education Center: 
• J. Frank Schmidt Family Charitable Foundation—naming rights for Outdoor Education Pavilion ($100,000). 
• Clackamas Chapter of Master Gardener Association—naming rights for Gray and Noreen Thompson Master Gardener Public Clinic ($50,000). 
• Ilene and Monte Waldorf—naming rights for East Entry façade and main access for building honoring Clyde and Norma Ramsay and utilizing logs from their tree farm ($10,000). 
• RSG Forest Products—donating framing wood for Extension Education Center and Pavilion. In addition, nearly 20 other contributions and pledges have been already made to the project totaling approximately $235,000. 
We sincerely appreciate this support!
For information on the fundraising effort and naming opportunities available.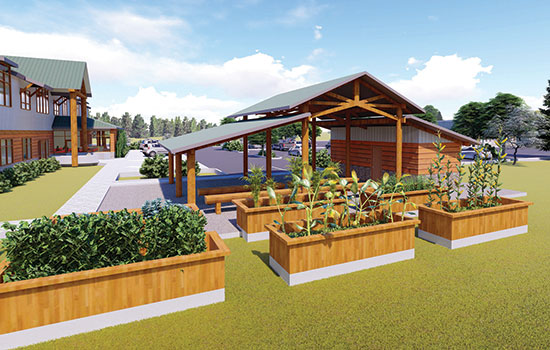 The Extension Education Center complex will include an Outdoor Education Pavilion sponsored with a generous gift provided by the J. Frank Schmidt Family Charitable Foundation, Boring. J. Frank Schmidt and Son Co. is one of the largest shade tree nurseries in the U.S. and started as a family business in the county more than 70 years ago. In addition, the Schmidt's are providing all of the shade trees that will be used for landscaping in the Extension Education Center area.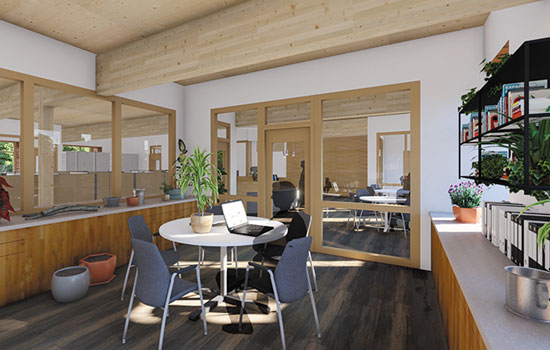 The Gray and Noreen Thompson Master Gardener Public Clinic will be staffed by Extension volunteers daily to serve the community with their gardening and home landscape questions. The Clackamas Chapter of the Master Gardeners Association is naming the clinic after the co-founder of Oregon's Master Gardener program, Gray Thompson, who launched the program here in Clackamas County in 1976. Gray's wife, Noreen, was an active Master Gardener in her retirement years, too.
Saying Farewell to an OSU Extension Pioneer and Visionary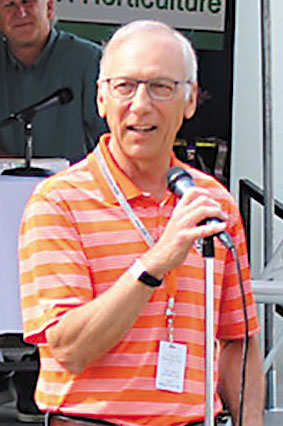 Mike Bondi addresses the Board of Clackamas County Commissioners and fairgoers during the 2018 Clackamas County Fair.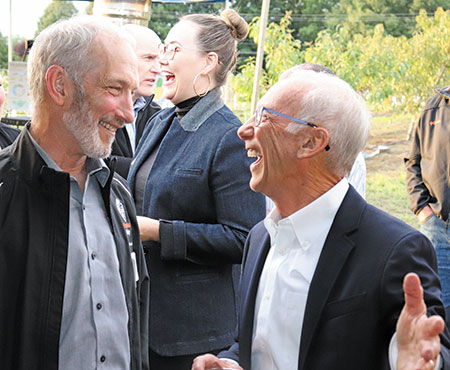 Mike Bondi, shares a laugh with Dan Edge, Associate Dean in OSU's College of Agricultural Sciences (left) at the NWREC Harvest Dinner. 
After over 42 years of service, Mike Bondi will step down from Extension this year, leaving an incredible legacy behind. Mike was hired as a County Extension Forestry Agent in 1978 when OSU was launching the largest and most developed Extension Forestry program in the nation. By 1980, he was one of 12 Extension Forestry Agents serving in the state, working primarily with private family forest owners. "Even to this day, no state in the U.S. has a program like Oregon's; with full-time forestry professionals serving at the county level, all with a minimum of a Master's degree," according to Mike. "Professionally for me, it was an incredible group of people to be working with." Mike started with Extension in Clatsop and Tillamook Counties. "My wife and I bought our first house in Astoria and had our only child in that community where we lived and worked for seven years." In 1985 he became the Extension Forestry Agent in Clackamas County. "I was interested in informal education, working with adult learners, and using the latest science-based knowledge to help solve practical, everyday problems of real people. I also wanted to work at the community level with landowners, professional foresters, and agency resource managers. Extension seemed to be a perfect fit." In 2011, his career moved on to the dual roles of OSU Extension Regional Administrator for Clackamas County, and Director of the North Willamette Research and Extension Center (NWREC). 
Mike helped initiate and grow many projects and programs through his work with OSU Extension, including growing the Clackamas County Woodland Owner Association to the largest and most active county group in the state; the launch of the Master Woodland Manager statewide program in 1987; the Clackamas Christmas Tree Marketing Association—started in 1991 to help Christmas tree growers pool their resources and talents to market their trees together; Creating Clackamas Tree School in 1991—the largest woodland owner educational event in the U.S.; establishing the local non-profit Forests Forever, Inc, following a landowner gift in 1990 of Hopkins Demonstration Forest; co-hosting seven international forestry study tours for landowners, foresters and natural resource managers as part of an International Forestry Tour Program; launching Clackamas County Friends of Extension in 1997 to help with Clackamas Extension fundraising through silent auctions, fundraisers and donations; the Oregon City Farmers Market—created at Extension to provide a true agricultural farmers market experience; voter approval of the Clackamas Extension and 4-H Service District in 2008, creating the largest funded county Extension program in the state; the annual NWREC Open House—a chance for the community to see and taste all the valuable work happening on the farm through its largest public outreach event; NWREC Harvest Dinner—a unique farm-to-plate dinner experience using produce from NWREC experimental farm trials and meat, cheeses, and beer from OSU programs; and the new Clackamas Extension Education Center where Mike worked with Clackamas Extension faculty and staff to create the vision in 2004, and more recently with Clackamas County Commissioners to make the project a reality. "I see the new Center as a community resource where people will gather for learning, meetings and to volunteer time back to their neighbors." 
OSU Extension wants to thank Mike for his many years of valuable service to our community and wish him the very best as he transitions into the next chapter of his life.