OSU EXTENSION SERVICE | CLACKAMAS COUNTY
Welcome to our Community Report
highlighting 2021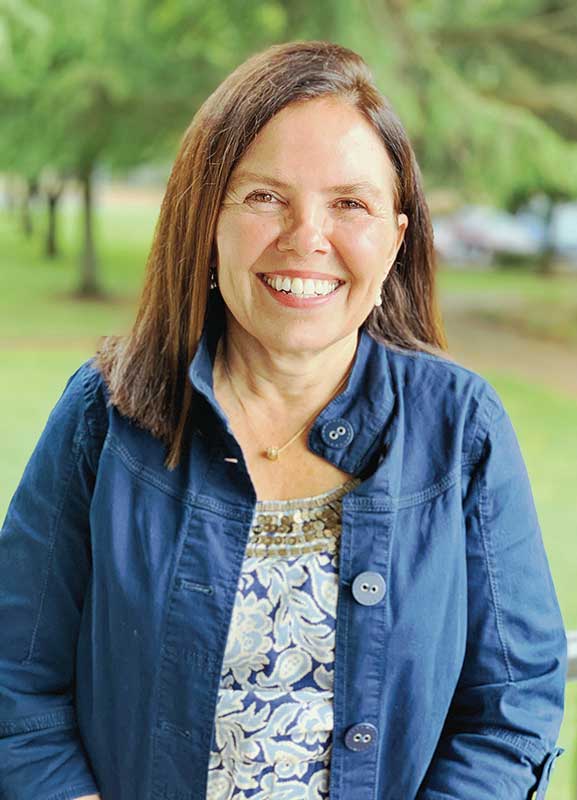 NORTH WILLAMETTE EXTENSION REGIONAL DIRECTOR
Returning to our worksites after so many months of remote working has required a mix of planning and flexibility. Our Clackamas County Extension office in Oregon City has been fully reopened since early summer, Monday through Friday 8:00-4:30, and we are offering a mix of both virtual and in-person programming after this long journey back to "normalcy." It is wonderful to be together, and I am pleased to report that our staff and faculty seem genuinely happy to be back in the office, greeting visitors and volunteers, and working with their colleagues again in person as much as possible.

As you know, our talented team of faculty and staff have dedicated time and attention adhering to the ever-changing public health and safety guidance while learning to manage the most effective tools in their new arsenal of virtual programming. It has been a challenge for not just us in Extension, but for all of us across Oregon (and the world) to navigate virtually while adjusting to the requirements to wear face coverings and practice social distancing. While it is uncertain when the mask mandates will be lifted at the time of this publication, we do know that we have entered a new hybrid world and we will take the best parts of what we learned and braid those new virtual practices into our face-to-face world. Truly, we have come so far and learned so much—together.

The summer months offered us the perfect time to experiment with our returning to in-person programming before our OSU campuses formally reopened last September. Things might feel a little strange for a while, but that's ok. We are all facing major behavior changes as we adjust to many of the Covid habits that have become routine. As we re-orient ourselves to face-to-face meetings and seeing each other in 3D, please remember to lead with kindness. Be kind to yourself, and be kind to each other.

Please feel free to reach out to share any big-picture ideas, reactions or suggestions you might have as we continue working through this pandemic together. We are here to support and create more opportunities for all residents of Clackamas County to participate in enjoying the present and building the future of Clackamas County Extension.
Message from Leah Sundquist, Clackamas County Extension Liaison/Manager
"I had no idea that we had such an amazing resource right here in our community." We hear that a lot when community members discover who we are and learn about all the valuable services and learning opportunities OSU Extension offers the public – most at little or no cost through our experts, workshops, publications, hotlines, online classes, and youth development opportunities.
We produce this Community Report each year and share it through local newspapers and community partners in order to help ensure everyone in Clackamas County has information and access to the services we provide through our programs. Those programs include: 4-H and Youth Development, Forestry and Natural Resources, Family and Community Health, Community and Urban Horticulture and Agriculture. The Report is produced in a magazine format and can also be found online: OSUExtensionCommunity
Report.com.
Contact information for our faculty and staff can be found on page two. The programs are color coded with a matching color bar for each program in the pages that follow. Each article contains links that will allow you to access more information or videos for the stories that interest you the most. These short stories recap just some of the myriad of activities and educational opportunities Clackamas Extension was involved with in 2021, as we began transitioning back into more in-person and outdoor learning. When available, each story shares statistics about program reach or frequency. Those numbers are underlined within the story. The Calendar of Events on page four, highlights activities planned for 2022, which may change or expand as COVID health polices evolve.
You may already be familiar with the work we do, or just learning about OSU Extension for the first time. Either way, we are excited to share our plans for a brand new, state-of-science Extension Education Center. This all-wood, mass timber, Net Zero building will be the first of its kind in Clackamas County – showcasing our productive timber industry and exemplifying sustainable living while serving our growing community for years to come.
For more information about the future Clackamas Extension Education Center, including news, donor opportunities, and progress updates visit: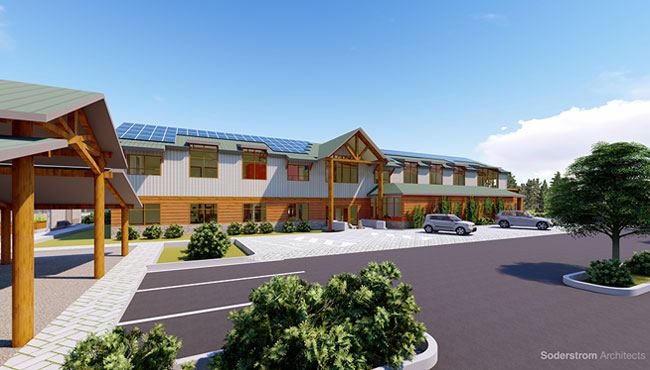 The Extension Education Center will be located on the Clackamas County Red Soils Campus. It will allow Clackamas Extension to expand programming and provide meeting spaces for the community. Private fundraising for the remaining funds needed to build the Center is happening now.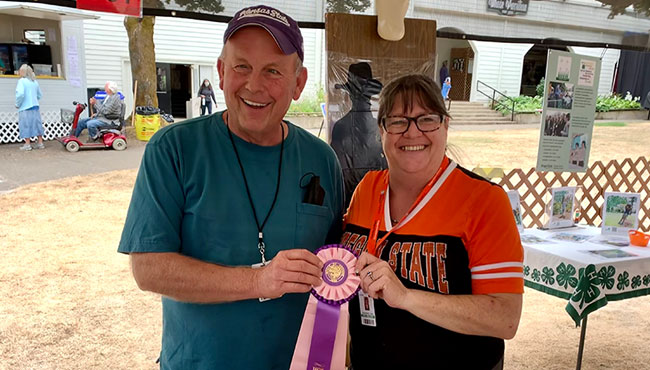 Leah, Sundquist, Clackamas County Extension Liaison/Manager, poses with the First-Place ribbon Clackamas Extension won for Best "Back in the Saddle" Booth Theme at the Clackamas County Fair last August. Over 1,600 people visited the Clackamas Extension booth and building to learn about our programs during the fair.