"Amazing Kid" Maggie Gilbert uses
virtual platforms for 4-H training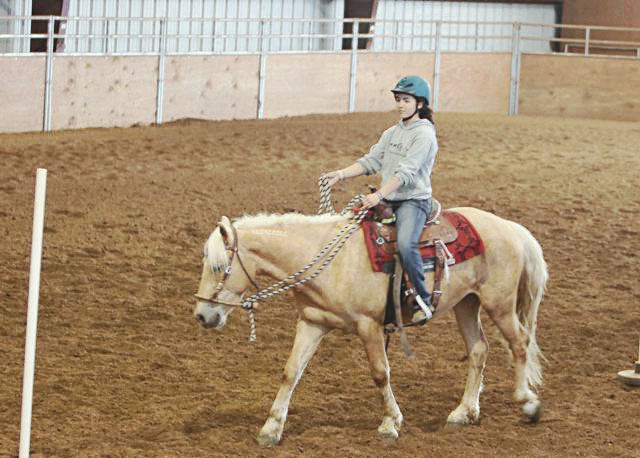 Winter Palmateer, a 4-H member from Estacada, training her third mustang, Rico.
Story by: Wendy Hein, Extension Faculty
What do you do with an untamed, wild horse?
Give it to a teenager to train.
Winter Palmateer's 4-H journey started like many others, As a kid she loved horses, learning to ride and enjoying spending time with other youth in the Wild-at-Heart Riders 4-H Club. After a few years, she started looking for something more out of her horse project. She got a new horse that was a bigger challenge. She got a pony and learned to drive a cart. She branched out in 4-H, joining the Blueberry Sunrise Club with her pygmy goats.
Research shows that youth who are involved in 4-H animal programs develop empathy and responsibility. "Horses have taught me about who I am and about compassion," Winter says. "I've trained three mustangs aside from my own horses. I signed up to receive a wild mustang, train it for 100 days then compete with it. I take a wild horse and gentle it down to be able to ride anywhere, like on a trail or the beach, and work showmanship with it. I like to be able to create a bond between the horse and myself with a mutual understanding between us, so we are of one mind. The amount of trust that comes with it is more than just 'breaking' horse to ride."
As a young child, Winter had simple love of animals. Now, the 2022 high school graduate has built strong character and a career path.