Community bands together to support 4-H family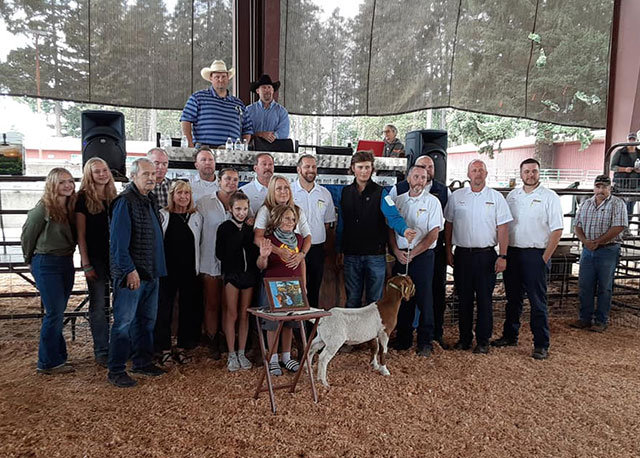 Community comes together to support an Estacada 4-H family at the County Fair Alves Goat Auction.
The 53rd Annual Clackamas County Junior Livestock Auction ended with a record-setting final lot – a market goat raised and sold in memory of 14-year-old Reagan Alves, a five year 4-H member of the High on the Hog 4-H club in Estacada, who tragically passed away in May of 2021.

Last June, 4-H volunteers Lacey Allen and Diana Thacker came together with the idea of auctioning off an animal at the County Fair to help support the Alves family. 4-H volunteer, Barbara Hartman, approached the family with this idea, and they were honored as Reagan enjoyed working with her animals and loved the week she spent each year at the Clackamas County Fair.

Two goats were donated by Jerry Vanderpool Jr, of HHO Farm. Jill McCloud, a parent of two 4-H Alumni said, "When I told him about Reagan and what 4-H was wanting to do, he didn't hesitate for one second. He immediately said yes."
The two goats were raised by 4-H members, Jake Allen and Daniel Johnson. One of the two goats was eligible to be sold at the Auction, while the second goat took champion in the feeder goat class.

Several Les Schawb locations joined together with the intent to purchase the goat during the Auction which came to an emotional conclusion with their bid of $14,500 for the animal. After add-ons were calculated, the total benefit to support the Alves family was $22,500. At the end of the auction, Reagan's father asked if they could keep the goats as pets in Reagan's honor, and both Les Schwab and Vanderpool gladly said yes.

We are incredibly proud of our 4-H members, families, and their communities for stepping up to provide this outstanding community support.