4-Her Receives State Award for Mastering Horsemanship Skills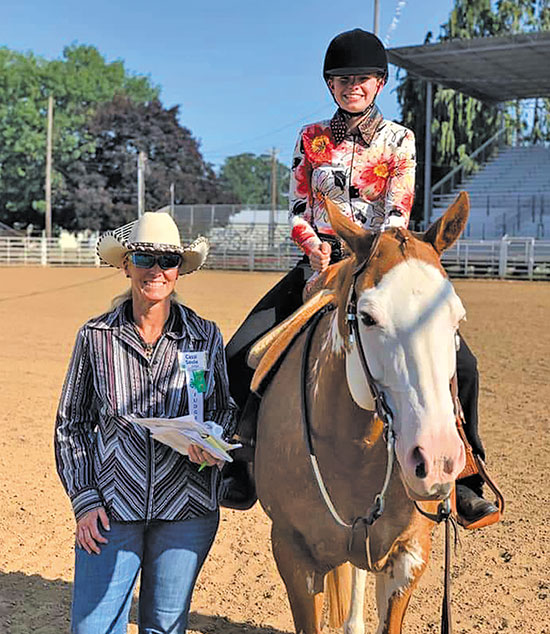 Jenessa Teachout gleams after earning her 10 Step Dad Potter Award aboard her horse Bella. Judge Cassi Soule signed off on Jenessa's successful attempt, the first in Clackamas County since 2001. Photo Credit: Shirley Byrne
The news spread fast through the Oregon horse community in July 2019—a 4-H member had received a 10-Step Dad Potter Horsemanship Award. Jenessa Teachout, a 9-year Clackamas County 4-H member, passed the very difficult test at the Clackamas County 4-H Horse Fair. Jenessa is the fifth winner since 2001. 
The E.L. "Dad" Potter 4-H Horsemanship Award is sponsored in memory of E.L. Potter, Oregon State University (OSU) professor, expert horseman, teacher, and developer of 4-H horse projects. The trial is a test of finished horsemanship for horse and rider. It is the highest horsemanship honor an Oregon 4-H member may attain. It includes 10 steps, each emphasizing a different skill, such as pivots and flying lead changes. 
Jenessa, with her horse Bella, had tried out for the award 10 times over the past two years, each time missing a different step. The member can make only one mistake in the entire test, and it must be immediately corrected. The judges hold the members to a precise standard. They have measuring tapes and a horse moving its foot even an inch in the wrong direction will cause a member not to pass the test. 
The whole Clackamas County 4-H Horse Program joined Janessa in a celebration after she passed the test. Many people had come to watch her take the test. Social media was buzzing with congratulations from past winners and those who had tried but not been able to pass the test. Jenessa was also recognized at the Oregon State Fair. This was Jenassa's last year in 4-H, and her final time competing at the Clackamas County 4-H Horse Fair. 
She praised her family, her trainer, and the 4-H program volunteers. She also had special praise for our 4-H judges who challenged and helped her along the way. "You guys are so incredibly knowledgeable and want to share everything to help us youth improve our horsemanship skills. From day one, you're rooting us on, even if we may have been terrified of you when we were first year juniors. I understand you can't give everyone blue ribbons (even if you'd like to), but the color of the ribbon isn't what determines the quality of our experience. You guys show us members the "tough love" of competing with horses. You give us those rainbow, white, and red ribbons with scoresheets filled with things to work on because you want us to work tirelessly at bettering ourselves. You believe that with enough guidance, hard work, and perseverance, all of us horse crazy 4Hers will ultimately grow as showmen, horsemen, and citizens. 
Through nearly a dozen Dad Potter tryouts, all of the different judges I got to work with showed me that it's okay to fail. Failures are only lessons learned which help us for the next test, pattern, or tryout. The more failures leading up to success, the greater the achievement. So judges, thank you for standing out in long sleeves in the dusty arena for countless hours giving us the tough love we need."